Gail Chiasson, North American Editor
This month we welcome Simon Sugar, CEO, Amscreen, London, U.K.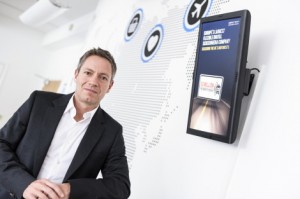 We've been watching Amscreen over the past couple of years and it appears that you are easily Europe's fastest growing digital out-of-home network company. What do you see as the catalyst that propels Amscreen ahead of others?

Our product proposition is exceptionally simple and is proven to work – combine this with its scalability, and this is why we've been able to install in over 6,000 different sites in under five years across three continents. (Our live mapping system demonstrates the reach of our network.) This scalability has allowed us to quickly dominate the place-based media sector in the EMEA region, including venues such as petrol forecourts, banks, convenience stores and healthcare environments. All these businesses have the same ultimate goal, which is to improve in-store communication to help drive sales or generally improve the shopper journeys.

Another core point of difference is that we came into the digital signage industry as a technology business. With the acquisition of Comtech M2M some years ago, we have an extensive background in wireless communications and mobile. Being a tech company meant that we were able to be in full control and didn't have the need for third party involvement. Our platform is low-cost, which enabled us to grow at a faster rate than others. In addition, our technical and commercial expertise from the Amstrad days have enabled us to champion innovation in the industry, which has helped propel us as a business. We are constantly striving to help our network partners benefit from this innovation and, as a result, we have fantastic long-term relationships with them and are always adding new partners to our base – including some later this year.

What do you see as the three greatest attributes of Amscreen?

First and foremost, the efficiency of our teams based in London and in Bolton. Together, we deliver a full service solution and therefore, without doubt, contribute significantly to Amscreen's success.

Flexibility would be another key attribute. We choose to push beyond the traditional boundaries of what people associate with outdoor and digital outdoor. Because our products are all remotely controlled and are 'connected', there is a world of flexible creative solutions that we can provide that are more often associated with online and mobile.

Our strap line here at Amscreen is Media Made To Measure – this is, without doubt, one of our defining features. It means that, through the unique flexibility of our products and services, we can create and deliver truly bespoke solutions for our advertisers. It also references the fact that we are the only business of our kind that can accurately understand exactly who, when and where ads are being viewed through unique access to the transaction and customer data, as well as our own revolutionary facial detection platform, OptimEyes.

Your father is Lord Sugar, a very successful entrepreneur, a TV Personality, someone with millions of followers on Twitter and, of course, chairman of your company. How would you say he helps you and your business?

Having Lord Sugar as the chairman of Amscreen is a great asset, as he is a great visionary with an extensive knowledge of the technology industry. As our chairman, he isn't involved in the day-to-day running of the business. However, he sits on the board and I consult him on the new developments within the business.

What do you see as your personal strengths that are propelling the company forward?

My background is in the technology sector and, with the vast growth of digital, I spotted an opportunity for low cost digital technology in the point-of-sale advertising market, thanks to what I learnt in my Amstrad days. Not having a background in media has most definitely been beneficial, as it has enabled me to approach the industry with a non-traditional outlook and, as a result, Amscreen has redefined the 'rules' of DOOH and delivered far more effective solutions.

If you had not headed into the digital world, what do you think you would like to have pursued as a career?

A soccer agent – you never know, perhaps there is still time for me to do this!

You seem to have innovated greatly and made much use of technology. We watched with interest as you piloted Quividi and came up finally with OptimEyes. Will it be as truly ground breaking as you think?

The DOOH industry is one of the fastest developing media sectors. All the innovation is happening in this field, and this is being driven by the smaller, more focused digital screen businesses. Amscreen's objective is to close the gap between online/mobile and Out-of-Home, and OptimEyes is a strong step towards making this happen.

We think media buying is going to change dramatically in coming years and we have no doubt that OptimEyes will facilitate this. More than ever, brands want transparency and accountability, and OptimEyes offers just this.

Amscreen is in C-stores, gas (petrol) station forecourt stores, travel hubs, health centres. Is there a vertical you would like to add to Amscreen's portfolio? Do you have a timeline for that?

For us, the key factor when looking at new networks is dwell time. We specialize in the place-based media sector, so we need to ensure that we have a presence in locations where dwell time is high and consumers' purchases can be directly influenced by the messaging on-screen. For every location we have screens in, we also have access to customer and transaction numbers, which is key as it allows us to be more accountable. To my knowledge, we're the only people in our region who are doing this.

In terms of new networks, we're always on the lookout for expansion and new opportunities. We are readily expanding in both the media sales and Solutions area of our business. In terms of new advertising networks – we have a new U.K. network coming on board later this year that we're very excited about as it offers our advertisers a certain quality of audience, impressive scale as well as being a key point of influence in the shopper journey.

We've also just recently launched our Solutions offering with a variety of different screen sizes that are ideal for back-of-house use, staff rooms, retailers and companies wanting their own networks. This division is already gaining significant interest with more and more businesses looking to improve both back-of-house staff communications and front-of-house promotions to help drive business.

With regards to timelines, the benefit of having a small executive board is that we make decisions quickly. For example, we rolled out the network in Germany at over 1,500 sites in just six weeks. Therefore, when we find the right opportunities, we make them happen. Time isn't an obstacle for us.

You offer programs geared to fit almost any situation. How much of your offerings are small businesses using your LinkLocal portal? How is it used?

Our LinkLocal service was born from an understanding that local businesses want digital options that reach local audiences. This has also evolved to create our AdLive platform. This was initially designed for Kia motor company, allowing its dealerships to advertise in a personalized manner and helping drive customers directly to their doors. This is ideal for brands that want to deliver a bespoke local message in a seamless and hassle-free manner.

Speed seems to be a particular strength of Amscreen. What is the fastest content you have ever put up on a wide network? How many screens were involved?

We've delivered a campaign for a U.K. DIY/home Improvements store, Wickes: from start to finish, this took less than 40 minutes. This one-day campaign was screened across over 1,500 sites in record time. However, to us, this should be the norm. Advertisers should expect this speed and service, as our technology is able to deliver it.

We also have real-time feeds, such as our News UK news feed for The Sun newspaper, that delivers instant updates, providing customers with news and information as it happens. Garmin also uses this functionality to great effect by featuring live traffic updates. Because of its immediacy and relevance, consumers rank this as one of the most valuable pieces of on-screen content.

Amscreen is huge in the UK, growing in Europe and now in the UAE. We haven't seen any interest from you in the North American market. Have you plans to enter it, and if so, how, when and where?

We are certainly interested in the North American market. However, we are a very focused business and, at present, our energy is focused on Europe. For us, the right opportunity and the right partner is key, and we would want to ensure that we find this in the U.S. whenever we do expand to this market.

One of the main benefits of Amscreen is that our products are extremely scalable and would lend themselves perfectly well to the U.S. market. We operate wirelessly, which allows us to easily establish commercial partners in local markets. We're always looking for new opportunities and we're confident that we'd be able to deliver the right solution for the right partner.

If you could buy any company in the digital field worldwide, which would you buy and what attracts you to it?

It's great to see so many small innovative technology businesses hitting the headlines currently, and it's some of this fresh thinking that excites us for the future of the media and advertising sector. The businesses that stand out for us are those that help us improve the impact and effectiveness of our advertising. We're always looking at ways to measure consumer engagement and also extend it beyond the single ad exposure. If we can own and track the consumer journey and extend the impact that our adverts have on the individual, then we can add more value for our advertisers.

This type of interaction is often facilitated by mobile and their associated software, so we've looked at app-based businesses that focus on loyalty and have the potential to become part of the average app users' relatively small repertoire. We take inspiration from businesses like foursquare that can deliver a degree of monetary or experiential reward in return for 'checking into' locations where our screens are found, so that we can then serve more relevant content to them pre/post and during exposure and purchase.

Do you ever partner with companies? Why or why not?

In terms of hardware and software solutions, we pride ourselves on managing all of our own systems in-house. This ensures that we can continue to provide a reliable service to our advertising partners without having to rely on third party providers.

We do, of course, partner with companies in other ways including the likes of Garmin which provides valuable and welcomed traffic updates on our forecourt screens. This kind of content ensures that our audiences continue to refer to our screens, as it is both useful and timely. This, therefore, benefits all featured advertisers and also encourages repeat views and a receptive audience.

How are you using mobile and social media in your offerings? Do see these as long-lasting? Expansive? Please give us your views.

We most definitely incorporate social media into our offerings. For a number of our advertisers, eg. BlackBerry and ESPN, we run live Twitter feeds, and we are always thinking about new and innovative ways to incorporate social into our content.

Day parting seems to be a big part of your offerings, allowing advertisers to target their potential customers. What percentage of your advertisers use it? Can you give us an example?

We're pleased to say that near enough 100% of our advertisers use day parting in some form or another. We can offer audience insights down to the hour and, therefore, advertisers have the opportunity to optimize their ads, gaining maximum exposure amongst the most relevant and receptive audiences.

A couple of simple but proven examples include News UK (The Sun newspaper). It identified key buying periods for the daily, Saturday and Sunday editions of the Sun and promoted these accordingly at key morning time spots. This activity with News UK saw a suitably significant increase in sales and we continue to work with them in this tailored manner. Coke Zero also looked at key buying periods as well as key audience profiles. This led to featuring the Coke Zero ad during lunch slots where spikes were seen in certain types of buyer behaviour.

Of all your offerings/solutions, what is most attractive to your European clients compared to the U.K.? Please explain.

We believe that the UK is leading the way in Europe when it comes to digital media. Most European countries are still using digital screens in archaic two-week cycles and advertisers haven't had the chance to see the benefits of more advanced digital solutions. This means there is a wealth of opportunity for us in the European market and we are excited about the prospect of delivering new and effective solutions as we continue to roll out across the continent.

Last year, we launched our GEO+ technology that enables advertisers to geographically target messaging. This has been extremely popular, in particular amongst motor brands, which, by using GEO+, are able to promote dealerships in proximity to specific forecourt sites.

Do all your networks work with wireless technology? Why is this important to the growth of your business?

Everything we do is wireless. Our core technology was built on this. One of the main reasons both our partners and clients love us is the simplicity of our technology: it is a hassle-free plug and play system.

Wireless technology is also important as it enables us to be scalable with our content and to update it in a matter of seconds remotely. It also enables regular, simple reporting. So as part of the process of updating content, the system will perform a complete health check and then report this back to our central server so we know if everything is playing out and running as planned.

What is the biggest mistake that you think DOOH networks worldwide often make? What should they be doing instead?

A lot of networks are 'over-specing' digital signage solutions, which essentially makes them uneconomical from day one. Most of our competitors are essentially aggregators who buy in screens and software from third parties and bolt them together. This approach comes with a raft of logistical and integration issues. This trend to over- engineer the hardware is actually counter productive as there is obviously more to go wrong and it ends up having little or no positive impact on delivering the solution. Ultimately, any good solution provider should spend a significant portion of time understanding what is the ultimate goal and therefore what is required to deliver this.

As a technology business in the media world, Amscreen has a big advantage, as all our screens are designed for their purpose, and we have the insight and understanding of the technology and what it can deliver, which is invaluable to advertisers. Being in full control, we are able to enhance and update our software as we see fit to offer new features to our clients and brands.

What is your goal for the company by 2015?

Firstly, we want to ensure that we retain all the great staff we have. In a similar vein, we are bolstering the strongest areas of our business with new talent in disciplines such as audience insight, as well as software and solution development. With this kind of investment and focus, we expect to have maintained and further grown our position as the innovators that are helping to drive the sector.