Gail Chiasson, North American Editor
Jeremy Male, for 13 years chief executive of JCDecaux, UK and Northern Europe, is leaving to become CEO of rival CBS Outdoor Americas.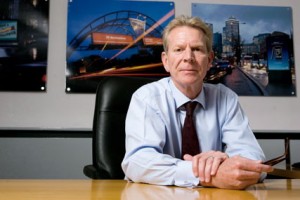 Male, who only in June was named the new FEPE president, has been credited with running an efficient, successful operation at JCDecaux. It's uncertain whether the move to CBS Outdoor Americas will affect his FEPE role.
CBS Outdoor Americas is becoming an independent entity from CBS Corporation following the announcement of July/13, of its intended sale to Platinum Equity, a private equity firm, for $225 million.
Jean-François Decaux, chairman of the executive board and co-chief executive of JCDecaux, says that he will be personally taking over the CEO position for the United Kingdom and regional management for Northern Europe and Australia.
The move marks something of a return to the CBS fold for Male who was CEO of CBS Outdoor European operations prior to joining JCDecaux. In his new position, he is expected to try and 'maximize shareholder' following the split from CBS Corp. which is putting all its outdoor assets – considered no-longer a core business for the newly focused media and entertainment operation – into a new public company.
Leslie Moonves, president and CEO of CBS Corporation, says, "Having previously announced a separate agreement to divest our international outdoor business, we are now in the process of creating a new and independent entity that will be comprised of our out-of-home assets in North and South America. Having a seasoned and dynamic executive like Jeremy at the helm can only add to the strength and direction of this new, independent company."
In his earlier career, Male also held numerous management positions in consumer goods companies, and was European managing director of Tchibo Coffee International in 1987.