Gail Chiasson, North American Editor
Atlanta-based NanoLumens has announced its Studio Pro Series LED displays for broadcast studio applications.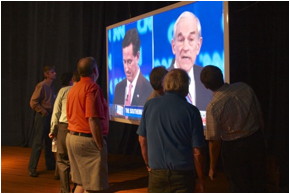 The large-format displays address all of the challenges traditionally associated with LED broadcast display systems and promise to revolutionize the way studios design their sets.
NanoLumens formally introduced the Studio Pro Series last week at the Atlanta regional section of the Society of Motion Pictures and Television Engineers' September meeting, which it co-hosted with Sony at the NanoLumens corporate headquarters.
More than 55 engineers attended the unveiling, which included a demonstration of the Studio Pro displays with a Sony 4K professional camera.
"The need to rely on bulky, heat generating and noisy rear projection display systems is officially over," says Rick Cope, NanoLumens president and CEO. "Our new Studio Pro Series of LED broadcast displays allows designers to create sets in entirely new ways with displays that are less than 6" thick while cutting down on cost, heat, energy consumption and maintenance issues.
"The best way to prove a breakthrough technology is to subject it to real-world testing with the same high-end cameras and equipment, and that is exactly what we did, using Sony's world-class professional cameras."
The Studio Pro Series allows set designers to better create sets to more effectively engage their viewers while eliminating the single biggest performance issue that has limited the use of LED displays in broadcast applications – a visual perception problem called the moiré effect.