Adrian J Cotterill, Editor-in-Chief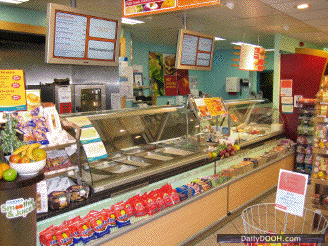 Well, what can we say, sometimes you just get the 'mood' of an industry, predict the right trends and throw up relevant stories just before others similar are announced!!! In what turns out to be the third digital menu board we have discussed on the blog in the last 24 hours, below is an exclusive look at the AMX Press Release that they were preparing for ISE, basically announcing a menu board system of their own.
Date: 18 January 2008

AMX launches Inspired Signage Retail menu boards solution

AMX, the leading provider of end-to-end digital signage software and hardware, today announced that in partnership with Inspired Signage Premium Partner, Icion Systems, they have launched a combined hardware and software digital menu board solution designed to be cost effective and flexible, and yet loaded with functionality.

Says James Game, Icion Systems Technical Director, "The key challenges to date with digital menu boards has been the cost of multiple channels within a single store environment. In partnership with AMX, we have now developed a single media player capable of rendering 3 completely independent content channels from a single media player. The solution has been specifically developed for a client in the convenience store market, where stores typically have a requirement for up to as many as 6 independent menu boards."

Damon Crowhurst, Market Development Director for AMX Inspired Signage comments: "Delivering a multi channel player for this specific market place has been something that we have been working on for some time. We believe that this development, combined with the ongoing drop in hardware costs, will really provide the retail menu market with the opportunity to embrace the digital signage revolution, something they have been slow to do to date."

About AMX

AMX hardware and software solutions simplify the way people interact with technology. With the increasing number of technologies and operating platforms at work and home, AMX solves the complexity of managing this technology with reliable, consistent and scalable systems. The company's award-winning products span control and automation, switching, distributed audio and video, and technology management. They are implemented worldwide in conference rooms, homes, classrooms, network operation/command centres, hotels, entertainment venues, broadcast facilities, amongst others.

AMX was founded in 1982 and is a member of the Duchossois Group of Companies. For more information, visit www.amx.com.

– ENDS –
ICION Systems of course were previously known as Jigsaw.
The picture on the blog shows an AMX menu board solution delivered for Centra Stores in Ireland through AMX's Irish partner Digital Knight.