E Ink, MpicoSys and Pervasive Displays Inc. have just announced the unveiling of the world's largest tiled electronic paper display sign at the United Nations headquarters in New York.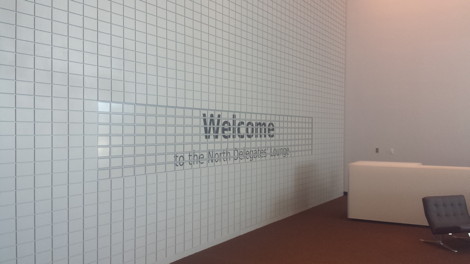 The eWall was unveiled on Wednesday, Sept. 25 by Queen Máxima of The Netherlands and UN Secretary General Ban Ki-moon during the General Assembly of the UN.
The eWall was designed by the architects of the Office of Metropolitan Architecture (OMA), as part of a renovation of the North Delegates Lounge – a donation from the government of The Netherlands to the United Nations – the North Delegates Lounge plays a key role in the workings of the UN as an unofficial meeting space where conversation is unrecorded and informal, Ed.
The eWall provides delegates with scheduling, news and other relevant information when needed; has a design mode showing high resolution large scale images; or can fade seamlessly into an unobtrusive wall when turned off.
The eWall stands about 6 meters wide with 231 tiled 7.4" displays arranged in a grid of 33 displays across by 7 displays high. With an overall resolution of 26,400 x 3,360 pixels, the eWall is the largest E Ink-based ePaper display in the world.
We understand that it usesE Ink's Pearl film, with Pervasive Displays providing the TFT and display modules, and MpicoSys providing the physical construction, electronics and control software to drive the overall sign.
About E Ink Holdings

Founded in 1992 by Taiwan's leading papermaking and printing group YFY (1907.TW), E Ink Holdings Inc. "E Ink" (8069.TW) is the pioneer of TFT and ePaper business in Taiwan. Its corporate philosophy aims to deliver revolutionary products, user experiences, and environmental benefits through advanced technology development. This vision has led to its continuous investments in the field of ePaper display as well as its 2008 acquisition of Hydis Technologies, manufacturer of the world's best wide viewing angle LCDs and its 2009 acquisition of E Ink Corp., the worldwide leader in ePaper. Listed in Taiwan's GreTai Securities Market and the Luxembourg market, E Ink is now the world's largest supplier of displays to the eBook market.