A new brand designed to revolutionise premium digital out-of-home, announced back in July under the code name 'Project X' has this week been revealed as Storm by Clear Channel.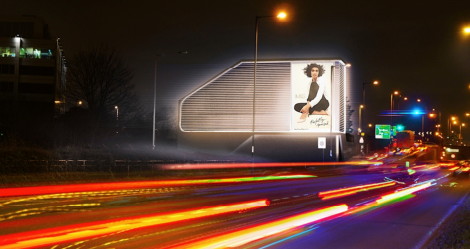 Storm launches with The Chiswick Towers and Cromwell Road Tower between Heathrow Airport and central London; The A40 Power Station (composite image shown above); and Coventry House at Piccadilly Circus and at a later date, the portfolio will be further strengthened with the North London Towers on the North Circular at Brent Cross.
Storm claims to totally re-invent outdoor advertising's traditional trading model with a radical shift from two-week in-charges and 30-second shared loops to completely bespoke solutions ranging from a targeted two-hour campaign hitting a commuter audience on a Friday evening to a year-long residency.
The sites have been designed to showcase brands effectively through the creative flexibility of full ownership, i.e. no Storm branding appears on the sites and digital nameplates and customisable lighting complete the ownership story.
Errol Baran, Managing Director of Storm, said "Storm is the biggest and boldest launch in UK out-of-home this year. We want brands to 'take ownership and play differently'. That means taking full control of some of the finest advertising structures anywhere in the world over a timescale that works for them."
Matthew Dearden, Chief Executive of Clear Channel UK said "Storm is a totally new kind of media owner. This isn't just about beautiful, state-of-the-art sites – it's about rethinking digital and fully embracing its inherent flexibility. We want to free clients from the constraints of shared loops and work in partnership with them to understand their challenges and connect them with the right audience at the right time."
Clear Channel has been operating the Storm trading model at The Chiswick Towers since April with campaigns from brands including Apple, Burberry, Coca-Cola, Google and Sky. HTC used the flexible trading model to run a campaign on the day of the Champions League Final at Wembley Stadium, while Virgin Holidays used the site with a targeted campaign on the Friday night before the May Bank Holiday.