Russ Curry, Ministry of New Media
In a strange, reverse style 'Negroponte Switch' kind of way, we were still very excited to see early copies of our latest book DOOH INSIGHTS: The Best of 2013 appear via twitter.
First up was Amscreen, who kindly tweeted the following picture along with the words "DOOH INSIGHTS:The Best of 2013 by @DailyDOOH looks good! #Amscreen @Amscreen_Simon. Read more…"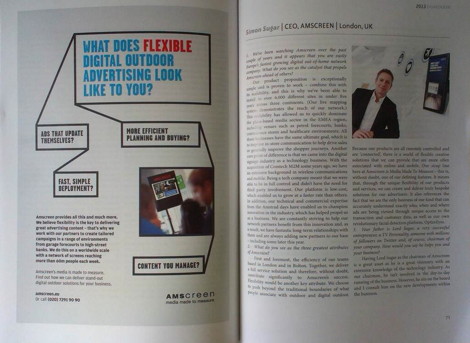 Quickly followed by Ocean Outdoor CEO Tim Bleakley, "we were chuffed to pick up the 2013 DOOH insights best of book, a neutral view on originality & best" along with the following picture caption…
Unless you get your hands on a copy you are unable to read, what will be, the last CEO Spotlight of the year – an interview with Amscreen CEO Simon Sugar which will appear on Monday 2nd December (and the month before that on Thursday 31st October an interview with Canadian Health Media Network's Ed Voltan).
Also in print now is the DailyDOOH Best of 2013 (see here, the DailyDOOH Best of 2012) – were you or your product in it? Some people / products / installations of course were BUT we will leave them to reveal to you on twitter who they actually were!
Copies of the book will be available at the best events during NYC #DpbMedia Week, starting with the RMG Upfront, Billboards Unplugged and (excitingly) every delegate at the DPAA Summit gets a copy in their goodie bag!