Gail Chiasson, North American Editor
After not hearing any news from the Canadian Out-of-home Digital Association/Association canadienne de l'affichage numérique, otherwise known as CODACAN for quite awhile, noting that its website has had no news since 2012 – and then hearing that several of Canada's best known digital networks had resigned their membership some time ago – we've been trying to find out just what's going on with Canada's organization of digital out-of-home networks and suppliers.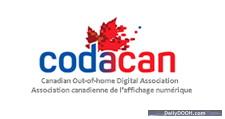 The last big news we had heard back in August, 2012, was when it had been named an associate member of the Digital Place-based Advertising Association.
CODACAN's mission is to lead and unite Canadian digital out-of-home with services and standards to promote and advance the industry.
Does it still exist? Well, yes, but it's looking for both a new chairman (We're told that recent chairman Charles Vachon, vice-president at Captivate Network, felt that, with the changes and growth at Captivate, he had to spend more time with his business) and a new executive director, a position that has been empty for quite some time.
We expect that the organization must be relatively cash-strapped, since we're told that it currently has less than a dozen members. Michael Girgis, president of Pattison Onestop was a former chairman of CODACAN when he was CEO of Onestop Media Group, and although Pattison has apparently come back to the fold, that less-than-a-dozen members are a lot less than the 34 members we counted in the 2009 membership list, for example.
We put in calls to Vachon and to the at-least-listed vice-chair Gaetano Cardone, president of Fokus Media, but our messages were not returned. However, we did talk to Ted Bradley of Roberts Media Network, listed as CODACAN secretary, as well as former CODACAN members Ed Voltan, CEO, Canadian Health Media Network, and Denys Lavigne, president, Arsenal Media.
Bradley is actively working on trying to attract a new chairman and an executive director and we expect to hear more from him on that soon. Several ideas will be put before the Board of Directors, but, he says, if they don't happen, the organization might be at a crossroads. Could its members become full members of the DPAA? Should it join the Out-of-Home Marketing Association? Would the group disband altogether? "Everything is on the table," he says.
Denys Lavigne, co-founder of the Quebec chapter of CODACAN, says that he was interested in the group as a promoter of the industry, but lost interest when the group started to focus mainly on ad-based networks. The group is (or was?) made up of both networks and suppliers of all types.
"The mindset is probably that if the networks did well the whole industry would benefit," says Lavigne. But for companies like his, the interest disappeared.
That combination of networks and suppliers who had different objectives may have contributed to other members leaving, too. Voltan says that CHMN's primary objective in being a CODACAN member was to promote credible Common Metrics.
"Unfortunately, and in spite of considerable effort over several years by a number of dedicated members, we were unsuccessful in promoting this beyond the final concept stage," says Voltan – adding that it had more interest from advertisers and agencies than from network operators.
Yet the common metrics are being used, not as standards, but as guidelines, according to Bradley. Agencies will ask whether a company's measurement meets CODACAN Guidelines, he says.
We hope to learn more about CODACAN's members, plans and future in the coming weeks. Canada has a very large number of companies involved in digital out-of-home in one way or another, and, while we understand that every member of an organization has its own aspirations, from our point of view, an independent organization dedicated to promoting the industry as a whole is essential to help it grow.