Adrian J Cotterill, Editor-in-Chief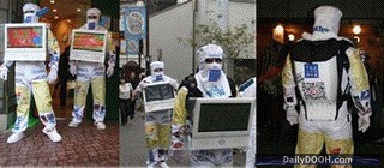 Pixmen get everywhere, or are they Unidenmen?
Uniden is a home electronics company and these "Unidenmen" were unleashed on the unwary streets of Shimokitazawa, Japan.
Are the Unidenmen wearing (albeit oversized) Pixman wearable mobile solutions?
http://en.wikipedia.org/wiki/Shimokitazawa
Our Head of R&D said "it would be awesome it they were showing footage of internal organs" – indeed, how cool would that be?