Adrian J Cotterill, Editor-in-Chief
Could The DailyDOOH Investor Conference have been timed any better? With investment activity in the sector reaching heights it has seemingly never scaled before, next week's two day event for the Digital Out of home and Outdoor industry, being held at Denton's law firm October 23 and October 24, is the event that senior executives in the industry are ensuring they do not miss.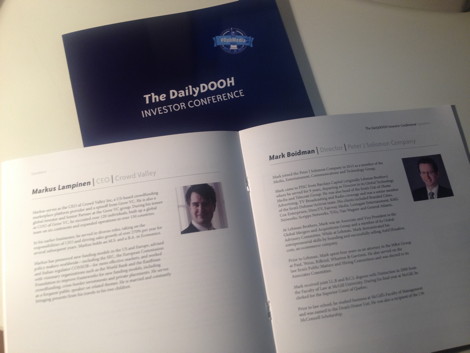 We have seen eight big announcements of note in the last few weeks, and if you go back to August there are over a dozen transactions within our industry which I will go through in my opening introduction on day one of the conference.
My co-chair Steve Nesbit and I have been tasked these last few months with bringing the investment community to the conference and with the help of Peter J Solomon Company's Mark Boidman I'm pleased to say that we have; Searchlight Capital, Otter Hill Advisors, Crowd Valley, Barclays Global Media Group, VeloCity Ventures Fund, Prestonwood Trail Holdings, Mergermarket, Icahn Capital Management, Clairvest Group Inc., JedFam Group, SCG Financial Acquisition Corp and RODAN Investments LLP all having confirmed their attendance.
Steve Nesbit has been quoted in the investment press as saying "The DailyDOOH Investor Conference is the place to get up to speed with what has been going on in the industry and learn what we expect to happen in the next year".
"With the help of some of the best speakers and a number of prominent industry insiders we aim to review as many of the recent mergers and acquisitions as possible".
Registration for The DailyDOOH Investor Conference is USD 1,950 per person, which includes coffee and tea breaks and a 'working lunch' on Wednesday.