Gail Chiasson, North American Editor
Maybe this article should be called 'Following a Smart Exec', because Chris Riegel certainly fits that description.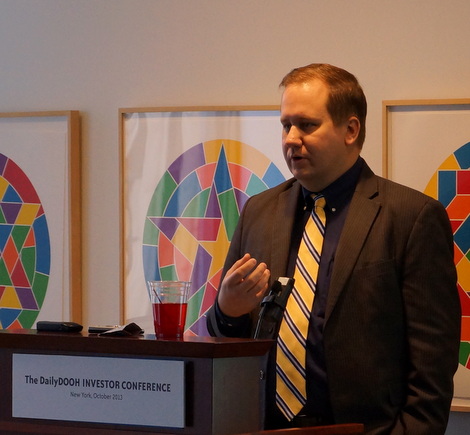 Riegel, CEO of STRATACACHE, took attendees at The DailyDOOH Investor Conference through the background of his company, founded in 1999 with no venture capital, all the way through to a company that now has a global revenue of between $110 million and $120 million, no debt and a single shareholder.
Along the way, he purchased ActiVia Networks, OmniCast Dispatcher, SuperLumin Networks, enVu, and, this year, Optika Display. The result is a company that offers digital signage, gestural interactive media, content distribution, and enterprise video acceleration. Further, he is always actively reviewing opportunities to acquire complimentary technology companies within the digital signage, content distribution, or video caching space.
"We have an investment fund of $50 million, and review 100 companies a year," Riegel said. "Of these, 85% are of no interest, 10% have structural problems, and of the other 5% we review, less than that end up in any kind of a following engagement.
"You have to know both what's right and what's wrong with a company you target. When looking at any acquisition, you have to be really careful. We ask four questions:
Is there a scalable opportunity around this target? (eg. Could it bring in $100 million annually within the next five-to-seven years?)
What is the business advantage? (Technology, people, proximity, market sector can play a role.)
Is there a Pivot Point? (What is the pivot point to make the target successful? Is there something that you could fix?)
Evaluation of Management (Is this a passion or a pay cheque? Is there a fire in them to take it to the next level? Do they clearly understand their market and the challenges ahead?"
Riegel made several market observations. For one, buyers are way overpaying the market. For another, buyers aren't looking hard at structural issues with the targets before buying.
"It's never a magic year," he said. "Set stakeholder/ shareholder expectations low and then over-achieve."
And, he said, buyers aren't paying attention to emerging markets. "India, China and Indonesia offer great opportunities."
What does Riegel see in the future?
"Significant market dollars are starting to pivot towards the digital out-of-home/digital place-based media sector.
"And the market is trying to reach key growth points."
And for his own company?
"We're going after large companies and long-term arrangements. We want to be at $1 billion by 2020."