While in New York last week, we had an opportunity to attend the joint Control Group-Titan #DpbMedia week event where we were introduced to the new touch screens that are or soon will be going into 14 New York subway stations.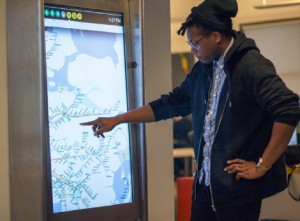 [1]Developed by the Control Group [2], 90 x 47" touch-screen kiosks will be installed in entrances/exits, mezzanines, and on platforms at such locations as Grand Central, Union Square, Fulton Center, and Barclay Center.
Together, they will be able to be reached and accessed by 2 million commuters and tourists a day.
Titan [3], which has many transit contracts, has been helping the Control Group refine the product. This is the second project where Titan and Control Group have partnered, Ed.
Colin O'Donnell, Control Group partner, proudly showed us the various aspects of the screens – at launch, the screens will feature all sorts of content, such as subway routes, delays, outages, and advertising (which currently brings in about $100 million in revenue for the MTA each year – mainly in static signage). The map features a one-tap navigation allowing you to tap your intended destination, and the map will draw your route, including any transfers along the way.
The kiosks themselves, designed by Antenna Design [4], encapsulate the screens in rugged stainless steel, with an operational temperature up to 200 degrees – we are told that it can reach 120 degrees in the subways in the hot summer, Ed.
In the future, the map will feature points of interest to simplify the experience for tourists. Thanks to a robust backend with heavy analytics at work, the MTA will quickly be able to prioritize which spots should be the most prominently featured by which are tapped most frequently, and these spots could even be changed by season. Eg. Rockefeller Center might be a prominent attraction in winter, when the big Christmas tree is up and tourists are skating below Prometheus.
"We can dynamically tune the messaging to the situation," says O'Donnell.
Thanks to an omnipresent network connection, information could be updated in real time. Ads could be modified, eg. according to weather, or whether a sports team won or lost.
Although we didn't see this part, we understand that the kiosks will also be be fitted with video cameras, mics, and Wi-Fi which will open up a whole secondary layer of data collection and interface. These will allow the MTA to insert emergency response messaging, as well as to pull all sorts of automated metrics from their stations.
Wi-Fi also opens the door for networking mobile users with Internet access and other streamed content. And a tourist could, eg., download a city map.
We couldn't help but compare Control Group's screens to those of City24/7 [5] which have allegedly also launched recently in New York – each was developed in-house after a long period of development and both target both New Yorkers and tourists, While wayfinding (eg. subways arrivals) is part of City24/7, it seems to have a lot more information on such things as the closest parks, government buildings, green markets and other such information. Control Group's main focus, at least at launch, is the whole subway system – right where you need it – while other information is being added.
Both companies, we understand, are looking at eventually developing their products for other cities as well.