Adrian J Cotterill, Editor-in-Chief
In Belgian Antwerp, Telenet Mobile has introduced a brand new, highly innovative shopping concept. Experience is key in the Telenet SmartSpot.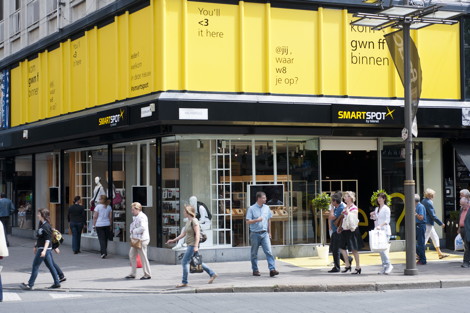 The shop has a very 'open' store front that invites customers to come in and shop. Consumers can make use of various types of assistance to help them choose the right communication devices, mobile phone plans and accessories.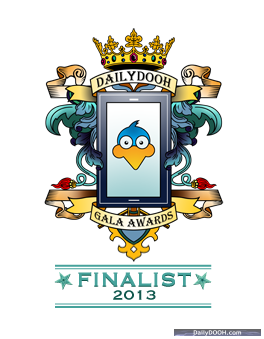 Communication technology and digital signage plays a decisive role in helping customers find the product or service that serves their needs best.
Scala partner DOBIT has created an innovative concept for Telenet to maximize sales and customer satisfaction.
"Mobile communication, telephony and internet are rapidly changing economic sectors," says Marc Bruers, CEO of DOBIT. "The market is continually flooded with new devices, new technologies and new mobile phone plans, all of which make it very complicated for consumers to make rational choices. Sometimes it makes people give up trying altogether. We want the Telenet SmartSpot to function as an understandable guide for Telenet customers. In terms of technology we were able to exploit virtually all of our knowledge, competence and experience. To maximize the shopper experience we used integrated touch screens, directional speakers and Scala digital signage solutions."
DOBIT account manager Philip Van den Driessche explained how the SmartSpot worked, "The first thing you see when you walk into the SmartSpot is the 'Who Wall', which is the first help station. Three 46" Scala powered Elo touch screens help customers make a primary selection from the huge assortment of devices that are available. After entering information about preferences like multi-media features, text messaging bundles and budget, customers will see three devices which they can then examine in detail in the 'Which Zone'. There is one 10" screen for per two devices that are displayed there; when the customer picks up one of those devices, the screen shows all of its specifications".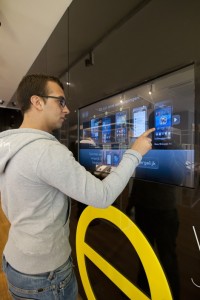 "Customers can find information about other Telenet products on an additional screen. For assistance from a specialist, customers can visit the Smart Care Corner, where a holographic projection links them directly to the specialist team at the Telenet headquarters here you see a life-sized, 3D image and can use it to actually interact with the specialist. You can even make eye contact. Sound Shower speakers provide perfect sound."
Philip Van den Driessche said "Telenet Mobile's intention is that the SmartSpot will result in the best possible level of customer satisfaction for the longest possible period. That requires a personal approach. At the same time, Telenet Mobile is committed to cost efficiency, and consequently our proposal made optimal use of effective technologies. Customers do as much as possible themselves, although Telenet Mobile staff is always at hand should they need assistance."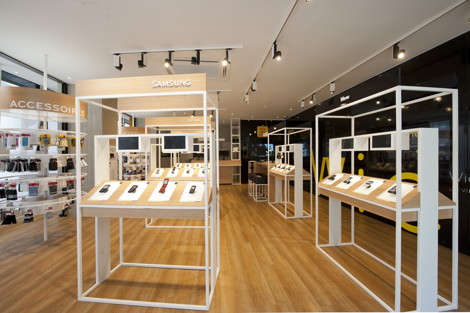 The success of the concept store in Antwerp has led Telenet to roll out the SmartSpot idea to more of its stores. Currently 15 stores host a total of 182 Scala players that all contribute to giving customers a unique shopping experience.