Adrian J Cotterill, Editor-in-Chief
So good is Limited Space Media Group's PR that it took one of The DailyDOOH Gala Awards jury members, on an international shopping trip with partner no less, back in May 2013 to highlight to us, just how good this interactive Volvic install was at Bluewater…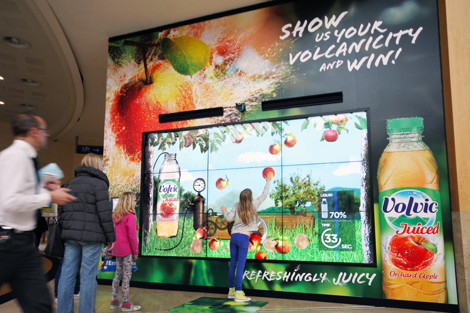 It was a campaign booked by Kinetic Fuel that utilised the full interactive potential of the innovative Bluewater Showcase screen – the first in the roll out of their new digital network – which has seen a lot of campaigns since.
The technological capabilities enabled delivery of an interactive game that would invite shoppers to 'splat' apples falling from the top of the screen, with the ultimate goal of filling a Volvic 'Juiced' bottle with apple juice in order to win prizes and enabling the brand to interact with their audience on a whole new level.
The campaign utilised 'Hummingbird' – a development in infrared touch based interaction which uses a laser scanner to enable full multi-touch capabilities across the entire 165" screen without detracting from the 4K picture quality.
Volvic were also able to display the product itself through the use of an integrated 'smart window', choosing to showcase a sample of their new 'Juiced' drinks range. The window allows for full product presentation behind an interactive Samsung transparent LCD screen that can run full digital content independently from the main display.
The campaign ran May 20th – June 2nd 2013.