Adrian J Cotterill, Editor-in-Chief
Google, Vodafone and O2 have been confirmed as first brand advertisers for the launch of CityLive, MediaCo Outdoor and Manchester City Council's highly-anticipated interactive network of 20 ultra premium digital touchscreens which are located in and around major volume pedestrian areas of Manchester city centre.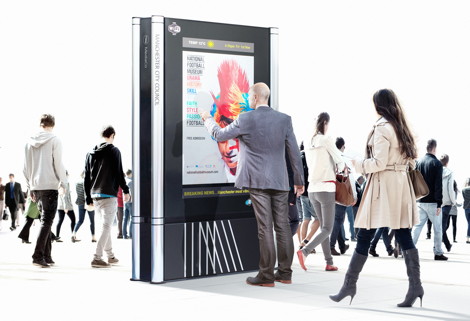 These advertisers will be launching campaigns from CityLive's launch week, 4th November 2013.
Each CityLive unit is fitted with multipoint touch functionality, built-in NFC, WiFi, HD cameras, high-quality directional audio, a live local news and weather data feed (aarrgh), city interactive wayfinding and MediaCo Outdoor's CityLive Look facial detection system (based on Quividi).
MediaCo Outdoor make much of their proprietary data and planning systems and its new dynamic trading and pricing model – which aims to incentivise advertisers and creative agencies to develop interactive campaigns of any duration, where brands can grasp outdoor advertising opportunities based on audience impressions across 250+ different audience types.
As part of the CityLive planning system, clients will also be able to access a suite of web-based planning and insight services:
CityLive Plan – an audience optimisation dashboard for clients linked to live availability
CityLive Enhance – a live dashboard from which clients can track audience build as well as interaction data (derived from facial recognition and NFC outputs) so that if required, they can adjust or test different creative during the live campaign
CityLive Report – a post-campaign analysis reporting system for clients
CityLive will reach over 5.3 million adult impacts per 2 weeks across the streets of Manchester.