Adrian J Cotterill, Editor-in-Chief
Zoopla, one of the UK's most comprehensive property websites, has launched a new Digital Out Of Home advertising campaign with BrightMove Media, to support their current 'Smart' search outdoor advertising campaign in London.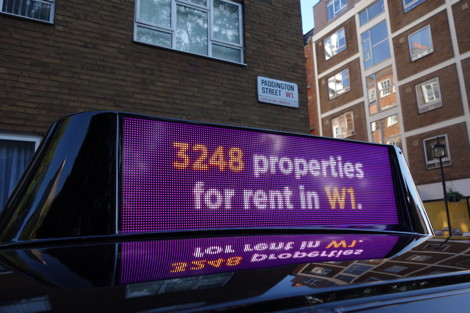 The campaign is expected to deliver over 3million ad plays over a nine-week period in the run up to Christmas and claims to use postcode location to broadcast availability in an area.
BrightMove Media will be delivering real-time information from Zoopla about properties for sale and to rent in all 127 London postcode locations – the idea being to change the screen display according to postcode location as the TaxiCast cabs move around London.
Charlotte Harper, Marketing Director of Zoopla said "We're pleased to be trialling this new form of geo targeting technology with BrightMove Media's TaxiCast. It's an innovative approach in the digital advertising market space and allows us to show the range in property availability across London."
Over the course of the last 4 months already over 18 million adverts have been broadcasted across the different campaigns. This is a total of over 25,700 hours of screen time spent advertising on London's black cabs.
Benefits of TaxiCast include commission incentives to taxi drivers and an opportunity for advertisers to bring geographically and time targeted advertising to the streets of London.