Gail Chiasson, North American Editor
Outcast Fitness, one of the largest media networks at health clubs, has partnered with Blue Bite to install a mobile platform in gyms and health clubs across the country.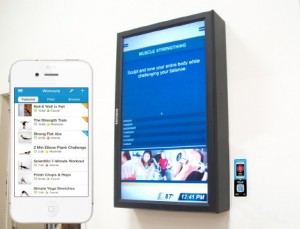 The first-of-its-kind rollout will provide users with a mobile experience within their gyms, giving them immediate access to fitness and health related content at the moment when they want it.
Using Blue Bite's proprietary mTAG platform, gym members will be encouraged to 'tap' or 'scan' Outcast's mounted screens throughout the gym via NFC (Near Field Communication) and QR (Quick Response) with their mobile devices. Upon interacting with the screens, users' phones will display a combination of advertiser content as well as club-specific information such as class schedules, trainer profiles, nutrition facts, workout suggestions and other helpful tips. Gym and health club members will have easy access to all gym-relevant information at the tips of their fingers.
Additionally, the rollout will include geo-fencing and beacon technology via Bluetooth Low Energy. Geofencing, a virtual mobile-targeting zone, will allow the gyms and content providers to target their audience and display user-specific information based on the preferences of that individual. Similarly, utilizing BLE beacons, users with the mobile app for each participating gym will receive exclusive content and be able to virtually check in once they enter the gym, further simplifying the sign-in process.
"We are always looking for new and exciting ways to connect with our audience in a contextually relevant setting," said Peter Krieger, Outcast's vice-president of sales. "The addition of Blue Bite's multifaceted solution will provide a new channel through which our advertisers can communicate with their users with unparalleled ease and accountability."