Adrian J Cotterill, Editor-in-Chief
Whilst we've been to Viscom Frankfurt a few times now, this is strangely our first time at #ViscomEU Düsseldorf (the event flip flops each year between these two German cities).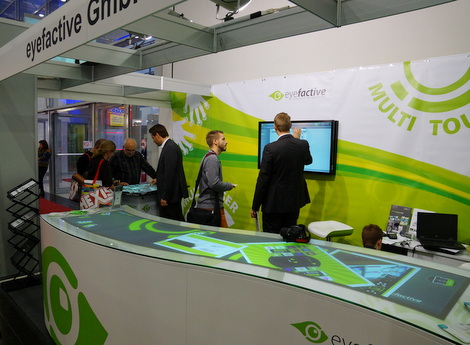 We've been big fans of this event for a while now – there is much more to it than many people think AND it's definitely not just a print show – the organisers bill it as an event for the Visual Communications industry and it has moved away these past couple of years from being a show where the main focus is on big, noisy, smelly (but fascinating) print machines.
If you have business interest in continental Europe (especially Germany) then it is definitely an event worth exhibiting at (witness first time exhibitors Four Winds Interactive this time around).
NEC Display Solutions and LG were the two big display manufacturers here and German digital signage software vendors Dimedis and Caldera were out in force along with half a dozen others dotted around the two halls.
We saw a lot of good things during the three day event – the best, probably was the PolyTouch module multi-touch kiosk system by Pyramid but the EyeFactive multitouch stuff (see photo) was pretty cool as well.
Viscom Frankfurt 2014 will take place 5th to 7th November 2014.