NEC Display Solutions Europe and ODEON have installed one of the largest displays of its kind in a public square – an LED digital display measuring 107 square metres – on the facade of the ODEON Leicester Square in London's West End.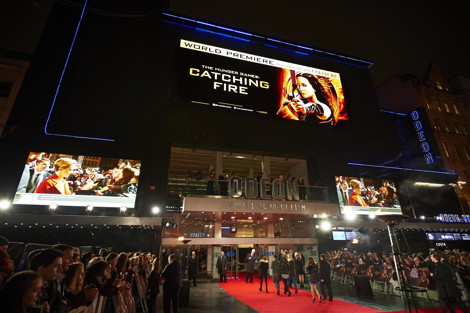 The huge display – the size of half a basketball court – replaces the old poster board and is flanked by two 18 square metre displays in one of the UK's most prominent locations, which welcomes more than 90 million tourists every year.
The trio will display images for the latest movies and, during events such as premieres, live footage including celebrity interviews and clips will be screened for the passing public to view. Officially launched at the world premiere of The Hunger Games: Catching Fire, the displays bring a highly engaging instalment to London's iconic West End.
The installation of the new screens will allow ODEON Leicester Square to instantly change what the screens display, eliminating the need to regularly hire traditional 'cherry picker' lifts to change what is displayed on the poster boards, making the screens a more environmentally friendly alternative to displaying posters.
The new screens will also enable the display to divide into multiple screens, allowing ODEON to screen different content simultaneously, a feature which will be particularly utilised during premieres where live film footage of the red carpet can be screened alongside clips of the film.
Andy Edge, Commercial Director at ODEON, said "We are really excited to launch the new LED screens at ODEON Leicester Square. It is an iconic film destination that has become synonymous with red-carpet film premieres, so we are thrilled to be able to move the premiere experience into the digital age with these state of the art LED screens. The recent regeneration of Leicester Square has breathed new life in to the area, and we hope that these screens, which are the largest of their kind in Europe, will help re-assert the square's position as London's home of entertainment."
The project reinforces NEC's longstanding relationship with ODEON, which has also seen all of its theatres across Europe upgraded to NEC digital cinema projectors over the last five years. It also heralds NEC's ongoing extension from the projection room into front-of-house, with planned projects to bring more digital signage and self-service kiosks into theatres.
Leicester Square underwent significant redevelopment in the run up to the London 2012 Olympics, enhancing its function as a backdrop for film premieres while retaining the Square's historic character. The new screens further this redevelopment, bringing together the heritage of ODEON's long-standing presence in the square with the most impressive and engaging display possible.