Adrian J Cotterill, Editor-in-Chief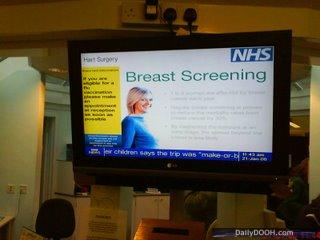 A picture speaks a thousand words (yep, sorry, yet more cliches in our posts this week) but in this instance a truism we feel – especially as these folks haven't published any in situ pictures of their screens anywhere else (we believe) to date.
Electronic Health Media (EHM) Ltd. first came to our attention via a Scala PR announcement and then via Avanti Screen Media's announcement of a local advertising deal with them. Despite these folks now having 150 screens, like the one pictured, in England, Scotland and Wales they (and their partners like Avanti and DMS) have been achingly quiet. Not the best way, we feel, to attract brands and advertisers.
Previously, from http://www.dailydooh.com/archives/231
Avanti Screenmedia just announced two new contract wins….

Avanti also announced a deal with Electric <sic> Health Media (EHM) which they say is expected to raise revenues of between £500,000 and £1m in the next 12 months (I think this is unrealistic as I describe later) – there is also no information on the revenue split – often 70 / 30 or 60 / 40 to venue+operator and media sales house.
Hanna Sebright, EHM's Managing Director told us "I can say that we are working with mobility providers, pharmacies and pharmaceutical organizations and we offer them flexible timed campaigns with content customized to each screen location"
This means for example, that they can promote a local pharmacy close to a surgery (that might be part of a larger national group).
EHM are now entering year two of trading and Hanna stressed "it is key to our success that we continue to offer a fully functioning, intelligent network to establish our credentials for long term growth, this is why we have invested in using Scala. We also fully appreciate the challenges ahead of us and are establishing partnerships with other digital media providers".
I am sure that many of us have sat in a Doctor's surgery, twiddled our thumbs and tried to read 12 month out of date (old) magazines! EHM as a captive audience network works for us though they need to re think the horrible content on the screens (horrible ticker tape, far too much text, wipe on wipe off graphics) and sort out a content loop based around the average dwell time.
They also need to sort out a media sales house who can bring in some serious National Sales (Avanti are just doing local sales we still understand).