Ministry of Health in Oman has implemented the first health education TV-channel, Hayah, powered by Scala digital signage software. The channel was developed by Scala partner Anzyma, the leading digital signage company in Oman.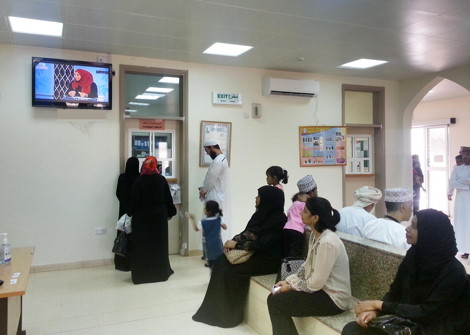 "With more than 10 hours of original, broadcast-quality health education content, this health education channel has the potential to revolutionize people's lives and benefit their everyday lifestyle and health. Hayah's goal is to create a health education channel which provides viewers with engaging, fun and informative content that impacts their everyday lives," said Adnan Al Raisi, IT (Scala) Project Manager, Ministry of Health.
The channel engages close to 150,000 people every month. This includes patients, visitors and staff working in health centres across the Muscat region. This region covers 23 health centres that display the Hayah channel. The broadcasting content of the channel is being centrally controlled and managed electronically using a terminal, which allows content to be modified for the most efficient, effective and targeted messaging possible. Scala has powerful features such as built in templates, schedule-based content distribution, a variety of integration possibilities, and media playlists to keep you in control of your network from anywhere in the world, on any internet-enabled device.
"Managing digital signage content like Hayah, was very challenging, and we overcame this with the innovative content management solution of Scala. Efficiency, with no doubt but cost-effectiveness to ensure the best possible ROI, delivered to our client by reducing the resources required to control and maintain the channel. Hayah represents a breakthrough in increasing health literacy and we strongly believe that in the future Hayah can create limitless opportunities for the healthcare sector," said Costy Berberi, General Manager at Anzyma.
About Anzyma

Anzyma is a leading IT company based in the Sultanate of Oman. With cutting edge solutions and pioneering technologies, Anzyma is engineering a digital revolution in Oman. Their emergence as a major IT firm has helped them forge and foster with renowned global firms in the industry and redefine Oman as a major tech hub in the Middle East.