Amscreen Digital Solutions are deploying a network of digital menu boards within petrol forecourts across the UK. Amscreen, Europe's leading digital screen provider, are using their 40" digital screens to bring a new dimension to deli menus and product promotions across 250 Shell petrol stations in the UK.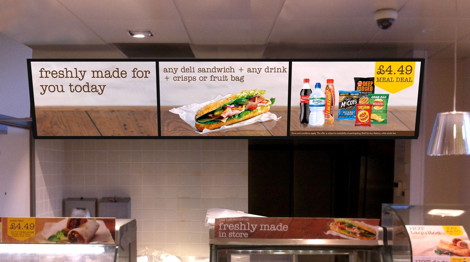 The full HD LCD digital menu boards from Amscreen are being connected in a horizontal format to create large, engaging displays with the aim of increasing sales and customer engagement. The content is automatically synchronised to span the width of the whole digital menu board and acts as a completely unified, dynamic display.
Amscreen, which has over 6,500 digital screens across the UK and works with companies such as Tesco, BP, Halifax and WH Smith, is offering digital menu boards in conjunction with screens as digital posters to create an effective digital in-store experience.