The Association of National Advertisers [1] has just dedicated its November issue to the topic of digital place-based media.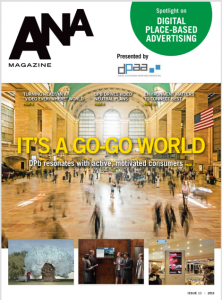 [2]The 12-page digital edition, co-written with the Digital Place-based Advertising Association [3], has been been sent to 20,000 ANA clients, and the print version has gone to 10,000. While print version is not available outside the ANA, the digital version is also accessible here [4].
Among topics in the issue, headlined 'It's a Go-Go World', include: Where the Consumers Are; Turning Heads in a Video Everywhere World; Digital Place-based Drives Video Neutral Plans; and Environment Matters.
This is the second year that ANA and the DPAA have collaborated to put the spotlight on digital place-based advertising.
It's part of DPAA's ANA sponsorship package, which also includes exhibit space at the Masters of Marketing conference, webinars for ANA members and the ability to submit case studies directly onto the ANA Marketing Knowledge database.