Adrian J Cotterill, Editor-in-Chief
"It's close to midnight and something evil's lurking in the dark Under the moonlight you see a sight that almost stops your heart You try to scream but terror takes the sound before you make it You start to freeze as horror looks you right between the eyes, You're paralyzed".. and then you realise it could be RENEW, like a Zombie coming back from the dead! ARRGHHHHHHH!!!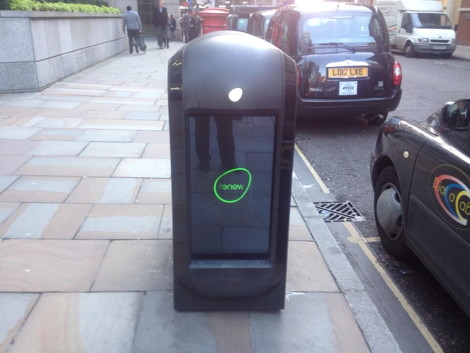 London's rubbish network Renew went tango uniform September 20, 2013 BUT some really scary news reaches us this Halloween 2014 and that is, the administrators have extended the administration process and pushing hard now to find a buyer to keep the network alive (that's 'alive' in the zombie sense no doubt).
Whilst in 'administration' the network went dark, with just the company logo appearing on the 100 or so rubbish bins (shown above) in the City of London and some screens having been pulled out completely.