Gail Chiasson, North American Editor
The Theatre District of the University of California, San Diego, is believed to be the first in North America to use Daktronics Digital Street furniture LED display units.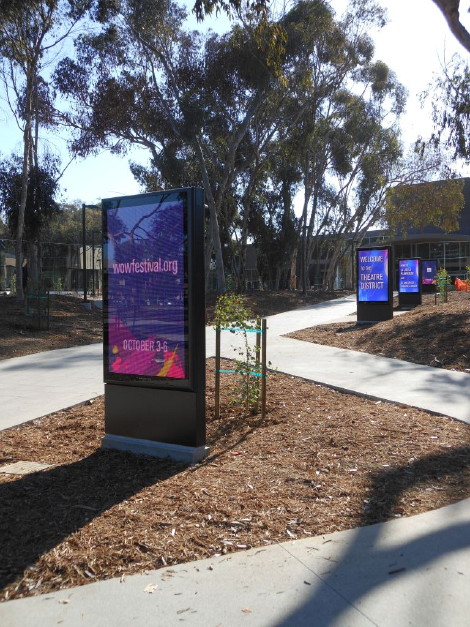 The four new displays help with event promotion and other special announcements, including emergencies.
Digital Street Furniture has resulted from collaboration with Daktronics advanced LED technology and the expertly engineered cabinetry and Daktronics Belgium – formerly OPEN Out-of-Home Solutions, bought by Daktronics last January. The new street furniture is a versatile product with exceptionally tight line spacing, well suited for heavy foot traffic and slow-moving motorized traffic environments such as shopping centres, out-of-home advertising and various public spaces.
At the U of C's campus, viewers will comprise the university's healthy 30,000-strong student population, as well as members of the public community attending performances. The displays feature 6 mm line spacing and measure 5' high x 3' wide (1.5m by 90cm). They are positioned at eye-level to deliver maximum visibility of scheduled advertising, event announcements and other timely information to passers-by. Each screen's content is relayed by its own dedicated Daktronics DMP-8065 media player, updated daily with content via Daktronics Venus 1500 control software over the university's network. Although content is currently static images, the future use of animations is planned.
The product emphasizes the message instead of the medium with vibrant images and unsurpassed picture quality backed by 6,000 nits of adjustable brightness to overcome the most demanding of lighting conditions. Due to the lower, reachable locations associated with this type of product, it is manufactured with a layer of glass covering the actual LED elements as an extra means of protection.
"UC San Diego has elected to be on the front lines of emerging technology and selected our company to provide its campus with this new street level video solution," says Jay Parker, vice-president of live events for Daktronics. "This Street Furniture product offers versatility at eye level that can be very useful for college campuses for event promotion, advertising and campus alerts. We look forward to the future of this product."