Gail Chiasson, North American Editor
Tapit Media, a global provider in NFC marketing based in has joined forces with Telstra to distribute the official Sydney, Australia, New Year's Eve mobile App to the public using NFC technology.
A simple tap of a smartphone on Telstra phone boxes and Telstra retail sales materials specially marked with a 'Tapit' symbol, now instantly installs the App on the user's mobile phone.
The App, created in partnership with event producer City of Sydney, allows users to not only connect with family and friends at midnight, but to also do things like submit a text message for the opportunity to have it projected onto the Sydney Harbour Bridge pylons during the night's festivities.
Essentially, it's the 'must-have' App for Sydney New Year's Eve revelers, and through the partnership with Tapit, accessing it is now easier than ever. Across Sydney, there are 1,100 Telstra phone boxes, 1,300 Lanyards (worn by Telstra retail staff) and many other point-of-sale materials that have been 'Tapified' – ie. Have been NFC-enabled and display the Tapit logo. A simple smartphone 'tap' will download the App.
The App was launched on Nov. 26/13 as part of Telstra's Near Year's REve campaign. It is the second time that Telstra has released a NYE App, but the first time it is using NFC technology to distribute it.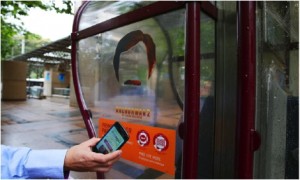 Jamie Conyngham, CEO of Tapit says, "It's all about immediacy and ease of use. Telstra is using its phone box network as a way of distributing Telstra mobile content to people while they are out and about.
"Like impulse buying, this is impulse content. You see something you want while you're walking around, so you Tapit it and then you have it. It's that simple. It's a great example of the physical world merging with the digital world. At Tapit, that's what we are all about – connecting the physical and digital worlds in the easiest and quickest possible way."
For Tapit, the Telstra NYE campaign follows a Telstra phone box campaign during October and November, promoting an Anchorman II competition. Entrants were given the opportunity to interview Will Ferrell or attend various Anchorman II pool parties. In this campaign, phone boxes were Tapit-enabled in all major Australian cities. Together Tapit and Telstra are turning the phone boxes into an interactive media asset for Telstra's own services. The reach of the network is unparalleled, as Telstra phone boxes are everywhere.