Adrian J Cotterill, Editor-in-Chief
If you've been lucky enough to attend one of our Thought Leadership Summits you will know that we ask our presenters to challenge the status quo, to get the audience to look at things differently, to impart as much knowledge as they can (in their 30 minute talk) and raise the 'excellence' bar in the industry.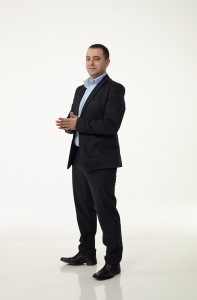 For #dse2014 we've assembled somewhat of a content dream team for Video Walls Unplugged which takes place as part of the standard DSE Conference Programme on Feb 11, 2014.
We'll be featuring all of the speakers over the next month or so but first we wanted to share with you, the guy we've asked to wrap up the day for us.
If you have a copy then turn to page 18 DOOH INSIGHTS: 2013 | The Best of 2013 (And Another Year of Executive Thought), published October 2013.
Stephen Borg, Director, Global Strategy and Market Development with the AOPEN Group (and an advisory board member of the Red Design Group and related companies) is one of the only speakers we know who talks any sense about retail – he is also a dab hand at design, content and technology.
His presentation is entitled 'Visual Surfaces: The End of the Video Wall as We Know It'.
He told us "the best designers around the world are now using digital technology to create Visual Surfaces. Quite simply it is a revolution that spells the end of the simple video wall".
In a theme (echoed by the likes of Bob Rushby) Stephen continued "Video hardly describes the rich content that can now be pushed to digital screens, and walls are NOT the only places you can expect to see multi-panel or tile displays".
As we have said before, innovative architects, interior designers and digital designers are using Visual Surfaces (or as Bob would say Pixels Everywhere) on walls, ceilings, floors, shopfronts and columns – as Stephen said "in fact any surface that can be used to add visual impact and Wow factor".
It's an exciting time ahead where technology, design and creativity will soon align. Stephen will present last at Video Walls Unplugged.
Stephen is just one of the 'Content Dream Team†' we have assembled for what will be the must-attend event of 2014. More details can be found here.
† Includes Denys Lavigne, Brian Henry, James Fine, Philip Lenger, Alex Hughes, Kirk VanderLeest