SOPACT, a subsidiary of JCDecaux, has been awarded a 15-year contract for advertising bus shelters in the city of Paris.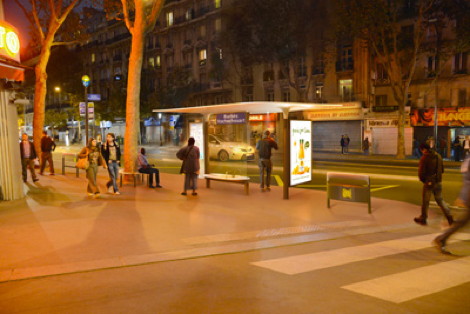 JCDecaux will replace the entire network of 1,920 bus shelters (which includes 189 non-advertising shelters) with 2,000 bus shelters specially designed by Marc Aurel. The new shelters will have a streamlined silhouette, with a glazed roof inspired by the shapes of the islands in the river Seine and by the leaves on the trees that line the city streets.
New seating and innovative modular signs and maps are also planned. The modular bus shelters will offer the public a range of new services, from local area maps to signs for pedestrians, real-time bus information that can be seen from outside the shelter, universal USB ports, a new "stop requested" function for passengers, backlit information at night and tactile labels that indicate the lines that stop at the shelter as well as voice announcement systems.
Approximately 100 bus shelters will also be fitted with 32″ digital touch screens providing localised information and services.