Zoom Media Inc. [1], in partnership with Starcom MediaVest Group [2] and Procter and Gamble's Scope [3] brand are delivering a campaign that prepares Canada to 'Outlast' anything with a fresh breath feeling that lasts five times longer!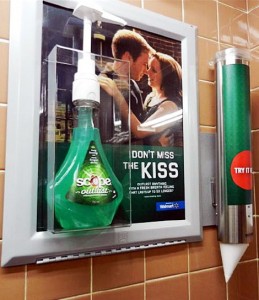 [4]Throughout holiday season and into the New Year, outgoing consumers frequenting Zoom Media Resto -Bars nationally have been encountering a classic vanity mirror board that has been transformed into a Scope Outlast sampling station.
This intricate campaign puts the product directly in the hands of the target when they need it, keeping the brand top of mind and authentically demonstrating its benefits.
"We welcome our agency and client partners to share their brand strategy and challenges, giving Zoom Media the opportunity to deliver innovative solutions," says Chris Corvetti, Zoom's director of sales and media integration. "It is especially exciting to build plans that are mutually beneficial to the brand, the consumer and our venue partners."
The sampling initiative goes beyond the traditional classic board, effectively influencing consumers in a perfect and opportune environment.