Gail Chiasson, North American Editor
With GSM Worldwide Media bringing advertising sales in-house, having used Adspace to handle national advertising for its large LED screens in malls until Dec. 31/13, the company has announced its new sales team, under Steve Geltman, vice-president of sales, who joined the company in October.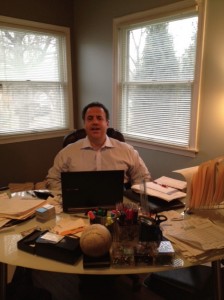 With 30 years' experience, Geltman was most recently vice-president of sales for MVP Interactive.
He earlier worked with with LTME ( Lou Tilley Media Enterprises ) overseeing the Philadelphia Soul, The Maxwell Football Club, The Philadelphia Freedom & The Ron Jaworski Show.
Geltman also worked with NASCAR and with CBS Broadcasting where he managed CBS Sports/Philadelphia Eagles Radio Network.
His career also included positions as president and CEO of LIT Communications/Sports Marketing, vice-president of sales and marketing for HoopsTV.com and regional sales manager for Clear Channel Traffic.
His team includes:
Ned Sands, director of West Coast sales – With 10 years experience with Interep and Katz radio. He held the positions of account executive, vice-president and regional vice-president. Sands started Bravo TV's west coast ad sales office and team and spent two years as vice-president of NBC/ Bravo; was former regional vice-president at Live Nation Entertainment; spent four years as regional vice-president sales for MTV networks; and has held , vice-president and senior , vice-president roles at various digital startups in the social network, video gaming, and connected TV space.
John Cahill, regional sales manager – Cahill had a 14-year career at SourceMedia, a B2B publisher in the financial space. He held two positions before settling in for an 11 year run with the Mortgage Group selling print, digital, research, data and event sponsorships.
Michele Freiberg, regional sales manager – Spending most of her career at Philadelphia Magazine for over 20 years, Freiberg started out with a very small list of local businesses and grew that list to six times the original revenue, handling regional and national business in such categories as automotive, retail, healthcare and home design. As one of the top performers throughout her career there and a multiple recipient of the Million Dollar Club Award, she consistently billed $1M+ per year, exceeding sales goals. Prior to her career at Philadelphia Magazine, she spent time selling cars, and parleyed her knowledge to attract almost 20 automotive brands to advertise in Philadelphia Magazine.
Ray Perry, regional sales manager – Perry has enjoyed a strong marketing and management career in the South Florida radio community. He served as director of network operations for the radio networks of the Miami Dolphins, Florida Marlins, and The University of Miami as a member of the Beasley Broadcast Group. He has been actively involved in South Florida media for over 25 years and it has allowed him to support the community including serving on the Orange Bowl Committee and Make A Wish Foundation. He also coached and served on the Board of Directors at PAL youth sports for many years.
Brad Murphy, regional sales manager – With almost 20 years experience in the media industry, Murphy started his career at a local Cape Cod radio station, where he was involved with many local charities. He moved on to the Dallas/ Ft. Worth market working as a local sales rep for the Susquehanna Corp. He served as a national director of marketing for Metro Networks in Dallas and also Traffic.com in Dallas and LA. He also worked as a director of sales at Access360 Media when it was a startup company, helping introduce DOOH Mall Advertising to many ad agencies in multiple markets across the country.