Adrian J Cotterill, Editor-in-Chief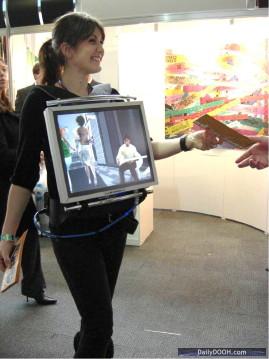 Adscreens has just launched a rather large 17inch front worn screen as shown above. Press release below…
Adscreens Limited Release 25th Jan 2008

In response to customer demand Adscreens has launched the largest front worn screen in the World!

A 17 inch high-brightness screen has been developed to fit comfortably on the person whether male or female.

Launched at the Events Show, Olympia this week gaining a very positive response.

Said Jon Marquis, "we see great potential for our newly designed screen especially where face to face contact is required, for instance product demonstrations and sales. Together with our existing back wearable product we can now cover all client applications and uses".
Adscreens can be seen at Screen Expo on stand: A17