Gail Chiasson, North American Editor
Comark Corp., based in Medfield, Massachusetts, will be using the NRF Big Show in New York Jan. 13-14 to introduce two totally new kiosk series targeting two totally different markets, one which can be used outdoors, and the other for indoors.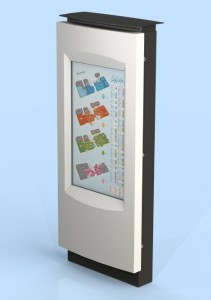 The Endura-One kiosk with a large 47" high definition sunlight readable (2000 NIT) display is designed for interactive digital signage and way finding applications and can be used in both outdoor and indoor locations. With an integrated projected capacitive touch screen and other optional peripherals, this interactive kiosk is geared for malls, outlets, campuses, airports or other high traffic locations. Possible applications include interactive way finding, information, digital coupons, social media, emergency messaging, and more.
Endura-One kiosk is being shown using interactive way finding software provided by Jibestream.
Located in Booth #1001, Comark is also introducing the Versa-One and Versa-Two kiosks, which for the show are featuring software from Livewire Digital and Kioware.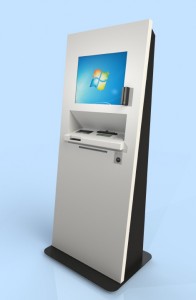 The Versa-One kiosk accommodates a variety of monitor sizes (19", 21.5 and 24" in landscape or portrait orientation), cameras, scanners/readers, printers, and payment peripherals. It is being marketed as ideal for any self-service application including: ticketing, bill payment, micro-markets, and human resources applications.
The Versa-One Healthcare kiosks will offer self-service solutions in healthcare facilities, allowing patients, visitors, and vendors to check-in for appointments, submit insurance information, make co-payments, access electronic medical records, or search for information.
The Versa-Two kiosk is being promoted for informational and promotional applications. The pedestal style kiosk accommodates a variety of large interactive digital signage monitors (32" 42" 47" and 55" in both portrait and landscape). The front access pedestal body can house an assortment of peripherals including QR/Barcode readers, thermal printers, and payment peripherals.
A 38-year-old company, Comark designs and manufactures high-performance and ruggedized kiosks, computer and display systems for retail self-service, building automation, industrial automation, military, marine, and mobile applications. Many of the same design and manufacturing techniques that go into its military solutions are used in its kiosks to provide long-term reliable service. The self-service division offers a variety of standard and custom kiosk and digital signage products for any environment.