Gail Chiasson, North American Editor
Washington State Municipalities (The State of Washington, King County, and the City of Seattle), avid Seahawks sponsors (Bud Light, Delta Air Lines, and The Western Washington Toyota Dealers) and media partner Clear Channel Outdoor have joined together to pay tribute to Seattle Seahawks fans and protect the home turf advantage by ensuring that only Seahawks-themed messaging is seen on Clear Chanel Outdoor billboards in downtown Seattle.
Through this unique community alliance, Clear Channel Outdoor has dedicated 20 billboards within a two-mile radius surrounding CenturyLink Field as the Seahawks '12 Zone' (the moniker for the power of a football team's fans). As of Jan. 10 until Jan. 26, , Clear Channel Outdoor is hosting supporting partner messages and creative on billboards in a tribute to the power of the 12 Zone and proclaiming Seahawks' fans as the best in the National Football League'.
"Seahawks fans are the best fans in the NFL," says Dow Constantine, King County executive. "For two miles around CenturyLink Field, this unmistakable message is being blanketed on billboards, expanding our home field advantage from the stadium to the streets. Go Hawks!"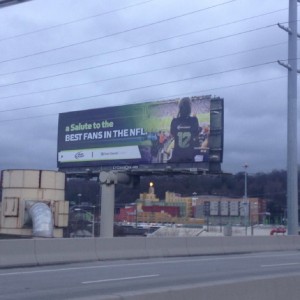 Additionally, Clear Channel Outdoor is further amplifying the power of the '12 Zone' by extending this campaign to the greater Seattle community through its digital out-of-home media in the surrounding areas.
Partnering with the Cities of Kent, Marysville, Tacoma, Tukwila and Renton (where the digital billboards are located) plus Joint Base Lewis McChord and the Renton Chamber of Commerce, Clear Channel's digital billboards will also display Seahawks fan messaging helping to 'raise the volume' far beyond the Stadium District.
"Clear Channel Outdoor is proud to be part of the fabric of Seattle, empowering local advertisers with effective and efficient marketing solutions and stepping up to support community programs, initiatives and nonprofits with our media," says Pam Guinn, general manager, CCO-Seattle. "Seahawks fans are committed to our local team and so are we. We're proud to salute the fans and cheer the Seahawks on to victory."

"Championship season is a great opportunity for marketers to align their brands with teams and their fans to become part of the excitement and dialogue," says Suzanne Grimes, president, Clear Channel Outdoor – North America. "This demonstrates the nimbleness of our medium to support advertiser campaigns that are contextually relevant and in the moment."
The logos of the State, County and City appear on the billboards as a sign of support for Seahawks fans, and no public funds were involved.