Gail Chiasson, North American Editor
Watchfire Signs has integrated its point-of-sale interface with VeriFone, manufacturer of site management solutions for convenience stores and gas stations, thereby allowing c-store operators to automatically update their Watchfire Price Watcher signs using their VeriFone POS system.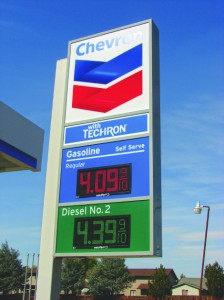 A c-store POS system is a computer hub that connects all of the main systems in a store (credit card readers, fuel pump meters and ATMs) and automatically aligns all store prices. By integrating with VeriFone, Watchfire Price Watcher signs automatically sync when fuel prices change in the POS system, ensuring that fuel prices displayed in the forecourt are accurate and current.
"VeriFone is the company that many c-store operators tap to help them run their business," says Jeff Koebrich, vice-president of engineering, Watchfire Signs. "As an approved VeriFone Petroleum & C-Store Integrated Partner, Watchfire offers its customers a one-step process to ensure that gas price signs are current."
Price Watcher owners who don't already have a VeriFone POS system can use the Watchfire POS interface as a standalone controller to change gas prices from inside the store wirelessly, eliminating the need to use a handheld controller in the forecourt.
"C-stores and gas stations are growing markets for Watchfire," says John Kunze, director of sign division sales for Watchfire. "Our customers tell us that sales go up when they install our Price Watcher and message center signs. By integrating with VeriFone, we are listening to our customers' need for solutions to help simplify operations and be more accurate."
The Price Watcher is designed for simplified, economical installation. Watchfire eliminates the expense of mounting multiple price sign components and provides a tough cabinet design that can withstand the harshest of weather. The sign's active front ventilation enables lower cost low-profile installation because sign structure ventilation is not required. Watchfire's complete sign unit design provides a 'plug and play' solution with easy front service capability.
Watchfire can also integrate with other POS providers.