Gail Chiasson, North American Editor
Allentown, Pennsylvania-based Clear Channel Airports, a division of Clear Channel Outdoor, recently launched a new indoor digital media network for Philadelphia International Airport – and signed on a number of major brands to use its state-of-the-art network to better engage with travelers passing through the city.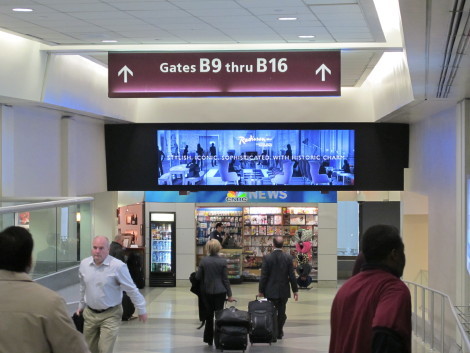 Featuring 35 advanced digital components, Clear Channel Airports' media solution features eco-friendly digital technology, including two 15' video walls; eight vertical column displays that allow for synchronized digital content to accompany passengers along the highest traffic corridor in the airport; and 25 70" screens running throughout the concourses and bag-claim areas.
Clear Channel Airport's digital media solution enhances the passenger experience while allowing advertisers and sponsors to connect with millions of travelers in even more valuable and compelling ways and offers a powerful new advertising platform that delivers messages from local and national brands to large numbers of sought-after business and leisure decision-makers.
In the last three months, US Airways, Radisson Blu Hotels & Resorts, Barracuda Networks, Saint Joseph's University and the Philadelphia Museum of Art have been present on the new digital network.
"Philadelphia International is among the first airports in the U.S. to introduce synchronized digital content to its advertising and passenger engagement program," says John Moyer, senior vice-president, airport development, Clear Channel Airports. "This digital media network will offer prolonged and direct exposure, allowing brands and products to engage travelers as they move around the terminals."
The new technology installations are part of the seven-year contract awarded to Clear Channel Airports by the City of Philadelphia last year. Clear Channel Airports has been providing advertising and marketing programs at Philadelphia International Airport since 2006.