Gail Chiasson, North American Editor
Planar Systems Inc., Portland, Oregon, display and digital signage technology company, has introduced its next-generation Clarity Matrix LCD Video Wall System with G2 Architecture, delivering a new level of visual performance for Planar's award-winning family of LCD video wall solutions.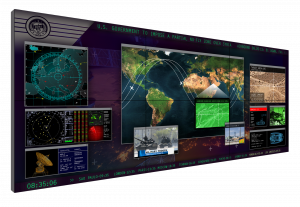 The Clarity Matrix with G2 Architecture combines what Planar claims is the industry's thinnest profile ultra-narrow bezel LED LCD video wall with improvements in design, installation and service, further delivering on its reputation as the best-in-class video wall solution.
In addition, a new 55" Clarity Matrix model sets a new benchmark with a tiled bezel width as small as 3.7 mm (0.15 inches), stunning image quality, simplified installation and maintenance, and 24×7 mission-critical reliability.
"The next generation Clarity Matrix builds on the accomplishments of the award-winning Planar Clarity Matrix family of video walls, which has gained significant market adoption," says Gerry Perkel, Planar president and CEO. "We are taking the key elements that everyone loved about Clarity Matrix, making them even better, and combining them into a next-generation product that meets the needs of today and tomorrow."
The Clarity Matrix with G2 Architecture delivers no-compromise visual performance with superb image quality, perfectly aligned panels and ultra high resolution. It comes with Planar's EasyAxis Mounting System, which provides an installed depth of just 3.6" (91mm) for perfect panel-to-panel alignment. This thin depth makes the Clarity Matrix with G2 Architecture compliant with the Americans with Disabilities requirement for protruding objects of less than 4 inches.
The Clarity Matrix with G2 Architecture also provides outstanding image quality with stunning 4K ultra high definition input capability and 10-bit color processing. Planar's Big Picture Plus processing is built into the system, allowing content to be scaled across the entire video wall or sections of the video wall.
The simplified installation and service of the Clarity Matrix with G2 Architecture enables A/V resellers and system integrators to offer customers a high performance, cutting-edge video wall system at a lower total-cost-of-ownership.
The Clarity Matrix with G2 Architecture provides 24×7 reliability for the most mission-critical environments including utility, traffic management, military, and law enforcement control rooms.