To celebrate the global event taking place in Sochi, Screenfeed, The Digital Signage Content Store, is offering three unique content feeds built for the digital signage medium.
The live Medal Standings shows the top ranked countries in addition to your home country as a dynamic image or Flash animation
Screenfeed's news editors will be providing daily coverage throughout the games with their popular News-in-Pictures feed which features hand selected and cropped full-screen or zone images along with a headline length written specifically for digital signage
Daily Video News Updates cover the athletes and competitions in consistent 30-second HD video clips boasting HD video, voiceover and scrolling captions
All content is built to short content lengths and will plug-n-play with most digital signage software.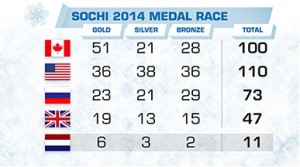 Jeremy Gavin, CEO at Screenfeed "Even viewers who are not traditionally sports fans want to know what is happening at the Olympics and Screenfeed's coverage provides our digital out of home customers a way to connect to their audience with engaging content through the month of February as the games take place."
Screenfeed's Winter Game coverage is available today for pre-order and for use from February 3 – 28 with the exception of the Medal Standings which will begin with the first medal award on Saturday, February 8 and stream results through March 1.
The channels are available for purchase now on their website at an affordable one-time fee per media player and networks over 50 media players can purchase a discounted package of all three feeds.
Integration with most digital signage software is as simple as choosing your desired method of delivery including: Media RSS, Direct URL, .swf (Flash) files, and FTP.
Screenfeed will be presenting its content services at #dse2014 in Las Vegas, February 12th – 13th at booth C17.