Guest Contributor, Damien Edmonds
OMD Melbourne booked this 3 month campaign for Sensis – Yellow Pages on Octopus's Digital large format network in Kew and St. Kilda, Melbourne, Australia and it is an incredibly good demonstration of how relevance can be applied to digital roadside.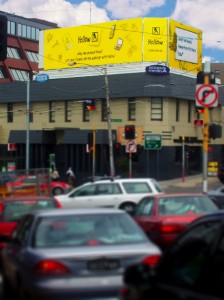 The Creative Agency was George Patterson Y&R, Melbourne and Michael Napolitano, Group Account Director at GPY&R told us "Yellow Pages could change their messaging to make it completely tactical, depending on various elements, for example what the weather was doing, or daily patterns of traffic congestion. In essence, this provided us with the opportunity to deliver dynamic, relevant and multi-dimensional advertising opportunities for our client"
The campaign objective was focused 100% on Digital Roadside and aimed to maximise reach and impact to adapt and localise messages in high-traffic areas – quite simply to cleverly demonstrate the sheer volume and relevance of Yellow Pages'® database!
The sites – all landmark digital displays targeting major roadside junctions in inner-city Melbourne allowed a creative message 10-15 seconds in length.
Michael Napolitano also told us "The media was recommended by OMD for its reach and cut-through, motorists had a level of interaction and it produced a better outcome for our client than that of static signage."