Gail Chiasson, North American Editor
Shuttle Computer Group Inc., based in City of Industry, California, recently announced its partnership with Scala, to offer Scala-certified digital media players.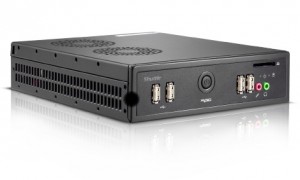 Shuttle specializes in small form factor PC hardware for digital signage, point-of-sale and interactive kiosks in the retail, restaurant, food service and hospitality industries, as well as motherboards and bare bones systems. Its DS61 digital signage players have undergone a battery of tests to ensure compatibility and performance. Since these devices are pre-imaged with Scala player software, they are easy to install and use in any Scala-based digital signage application.
"Obtaining Scala certification for our DS61 i3 and i5 players is a great accomplishment for Shuttle," says Marty Lash, Shuttle director of sales and marketing. "It's a rigorous process, and we're proud to show that our products meet and exceed Scala standards."
On adding the Shuttle DS61 to its list of certified pre-configured media players, Peter Cherna, Scala's chief technology officer, says, "Scala and Shuttle together can bring you world-class signage solutions on an attractive, slim form-factor PC with quiet and redundant cooling. Supporting one or two video outputs, the DS61 will be a very good choice for many signage applications."
Shuttle's Scala-enabled DS61 media players ship through Shuttle's Distribution Partners in two wireless configurations. Powered by the H61 Express Chipset, supporting Intel Core Ivy bridge high-performance processors, each DS61 offers high-definition dual display interfaces that greatly upgrade digital signage display quality and enhance the viewing experience. The Shuttle DS61 i5 is for more complex and fast-moving content applications. The less powerful DS61 i3 operates such applications as touch and basic way-finding. The 43mm form-factor of the DS61 is one of the thinnest Intel-based solutions available.
"Scala certification helps to ensure that digital signage installations and connectivity are seamless," says Lash. "Each Shuttle DS61 Scala-certified player comes pre-loaded and imaged with the latest Scala player software so it is essentially plug-and-play. Integrators simply connect the device to the Internet or LAN and the player is ready to be connected to the network."
Scala was one of the world's first connected signage companies, offering a platform for content creation, management and distribution in digital signage networks, and one of the first unified platforms for advertising management of both traditional and digital signage networks.