Gail Chiasson, North American Editor
San Francisco International Airport (SFO) opened its new Boarding Area E, the first phase of Terminal 3's renovation and home to United Airlines, yesterday.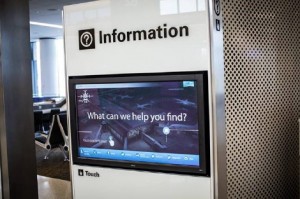 The $138 million project has completely transformed the boarding area to meet the needs of today's modern travelers, offering 10 additional gates, luxury amenities, innovative technology and sustainable features.
SFO used Omnivex Moxie from Concord, Ontario-based Omnivex to provide travelers with interactive wayfinding at information kiosks in the new boarding area.
The renovation of Terminal 3East (T3E) is a capital program that includes two projects: the 68,000-sq. ft. Boarding Area E, the eastern pier of Terminal 3; and the 150,000-sq. ft. connecting eastern concourse to Boarding Area F.
Boarding Area E was renovated through a design-build partnership between Hensel Phelps, Gensler and the KPA Group. The next phase of the project includes a state-of-the-art security checkpoint with up to 10 lanes and new 'wait time' technology, an additional three gates, and expanded concessions and guest amenities. With a budget of $209 million, this portion of the project will re-open in phases between July 2014 and July 2015.
We expect Omnivex to be involved in that area, as well.