Gail Chiasson, North American Editor
VeriFone Media, New York, has officially launched its new digital taxi top ad platform by sending a parade of Super Bowl-branded taxis around the city.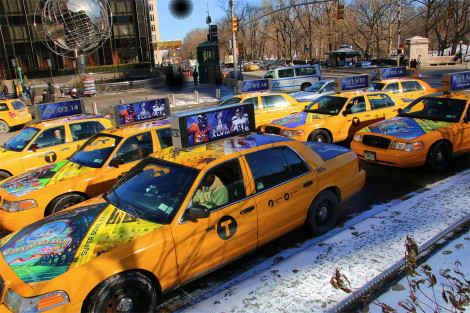 As the Super Bowl descends on New York City this week, VeriFone Media is rolling out an NFL campaign with the city's iconic taxi fleet.
Marking the kick-off of the Super Bowl Boulevard festivities, the parade featured 48 yellow NYC taxis with wrapped hoods and trunks featuring imagery representing one of each of the past 48 Super Bowls. Of these, 30 of the taxis are running videos from the NFL on VeriFone's brand new, high definition digital taxi tops.
New York City allows full motion video on taxis, and VeriFone Media's manufacturing partner MRI has custom laser cut the screens to the size and shape (41″ wide x 14.4″ high) requested by VeriFone.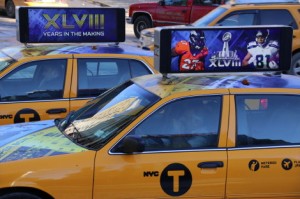 These are the largest, brightest (adjusting to 2,000 nits per side during daylight) and believed to be the first high-definition digital taxi tops with full-motion video. They are also capable of running geo-targeted and day-parted creative campaigns, with near-real-time updates for sports scoring and social media integration.

"This is a premium product," says Jason Gross, vice-president, strategy and marketing, VeriFone Media. "While there are three different creative options, so far all our advertisers have done custom advertising for the screens. And, obviously, these screens get high notice from both cab customers and people on the street.
"Creative can be changed rapidly, and all plays are tracked and the screen performance is remotely monitored."
While advertising on the tops of the taxis does not have to be by the same advertisers as on the screens inside the taxis, Gross sees the two as complementary when it comes to a call-to-action for retailers who want to use it this way.
Although the Super Bowl campaign is special, ordinarily spots are 15-seconds, with a loop length of two minutes. Content management is by VeriFone's own management software.
A full rollout of VeriFone Media's digital taxi top fleet, featuring 100 cars, will take place later this month."
We understand that VeriFone will also introduce taxi top advertising on taxis in Las Vegas in a couple of months (with perhaps London to follow), but it is likely that these will be static because Las Vegas does not, at this time allow full motion video on cabs