Adrian J Cotterill, Editor-in-Chief
The largest out-of-home company in the ANZ region, oOh! Media today announced it would be investing heavily to deliver world class digital out-of-home advertising in New Zealand to provide marketers with more innovative ways to connect with consumers.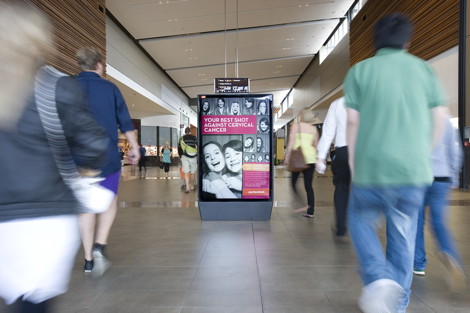 oOh's chief executive, Brendon Cook, said the company would also be increasing its retail and university infrastructure across New Zealand following Auckland Airport's decision to give the rights to its advertising business to another provider from the end of 2014.
The company already has a significant retail and university presence, with coverage across Westfield, KIPT (Kiwi Income Property Trust), AMP and other retail groups including shopping centres such as Sylvia Park and Riccarton and universities campuses including University of Auckland and Victoria University.
"New Zealand is an important market for the company and our unmatched retail and university campus advertising solutions place us in a strong position, particularly as marketers look for innovative ways to engage with their audiences," Mr Cook said.
"We have aggressive growth plans for the NZ business and in addition to continuing selling our Auckland Airport offering through to the end of the 2014, we will be leading the market in innovative and audience led solutions.
"We put in an offer that was commensurate with the opportunity at Auckland Airport and obviously it did not meet their expectation. We wish the winner of the tender well, but welcome the opportunity to invest money, that would otherwise have been needed for the delivery of our Auckland Airport proposal, into aggressively expanding and improving our retail and study offerings."
New Zealand general manager, Cameron Taylor, said the ability to shift the capex from the airport into the other parts of the business would enable it to fast-track delivery of new retail and study innovation.
"Over the past 18 months, oOh! has invested heavily in our retail and study offering in the New Zealand market and we will be further expanding these valuable products that give brands the opportunity to target audiences in key away from home environments," Mr Taylor said.
"We will be accelerating our digital investment over the next 3 years to make these two product offerings even more valuable for the advertiser.
"This will enable New Zealand marketers to drive innovative campaigns such as those we executed in Australia recently such as Google Play, which saw consumers take control of digital panels via a smartphone, Unilever which saw advertising appearances determined by temperature and the successful Virgin Mobile Game of Phones campaign."