Adrian J Cotterill, Editor-in-Chief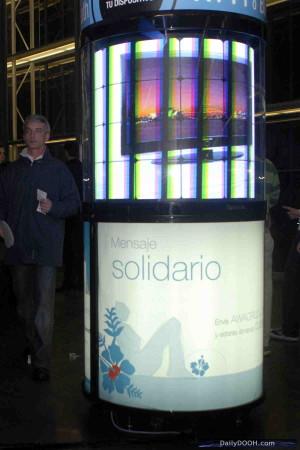 Spanish wireless technology solutions provider AWAMedia has launched a network of two circular LED screens and an interactive video wall at the Telefonica Madrid Arena in Spain.
We understand that there are more locations to come in the next few months – possibly as many as 60 deployments in shopping malls and other retail environments across Spain, including the Canary Islands, Madrid, Murcia and Valencia.
The systems will use 1-2-1VIEW's digital signage system
Some of us saw the system put to the test at a charity tennis match on 20th December 2007, when world tennis number two Rafael Nadal and Real Madrid's goalkeeper Iker Casillas invited several other athletes to various tennis and soccer matches to support a Red Cross campaign to free the world from malaria.
Footage of that charity event was shown across the venue on two AWA-installed circular LED screens and one interactive video wall.
AWAMedia's CEO Mr Angel Gallardo said "We chose 1-2-1VIEW based on the system's excellent price/performance ratio and capability to easily manage hundreds of screens at diverse locations remotely."
AWAMedia is a pioneer in developing innovative interactive advertising solutions over wireless networks that are centrally managed to deliver maximum viewer impact. The company will present its screen network and other solutions at SITI/asLAN, a trade show specialized in networks and convergence Technologies, which will be held from 26 – 28 February in Madrid.