Adrian J Cotterill, Editor-in-Chief
This new network of Smart Points and screens went live at Stansted Airport's terminal extension back in December 2008 and is, we are told, setting new records for passenger enquiries via the Cityspace flagship broadcast and interactive terminals shown here.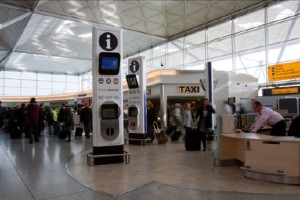 Steve Farias, Terminal Operations Manager at Stansted Airport told us "We had almost 14,000 interactive enquires in January, the first full month of the service being live, which peaked over the three heaviest snow days"
He added "Whilst adverse weather conditions are naturally expected to generate increased passenger information enquiries, these are, effectively, 14,000 self-served passengers which by-passed the need to speak to a member of our customer service team – a tangible demonstration of delivering customer service efficiently and effectively at the point of need"
The interactive terminals were commissioned by BAA to support its drive for efficient self-service and increased uptake of public transport
The three doubled-sided Smart Points feature broadcast screens on both sides displaying scheduled bus and rail departures and arrival times together with dual interactive screens for passenger information and journey planning.
Guy Wolfenden, Director Transport at Cityspace told us "The Smart Point is ideally suited to busy passenger hubs like airports, rail and bus interchanges. The majority of customer enquiries are easily addressed by well thought out content, such as the location of airport and transport facilities and services"
Nice also that BAA Stansted customer service also controls broadcast content relating to airport announcements as they occur, providing waiting friends and family at arrivals with up-to-the-minute information on the well appointed screens.