L'Oreal Paris has taken domination of Westfield London for London Fashion Week starting this Friday (February 14) with a campaign to promote its Elvive Fibrology Hair Thickening Range.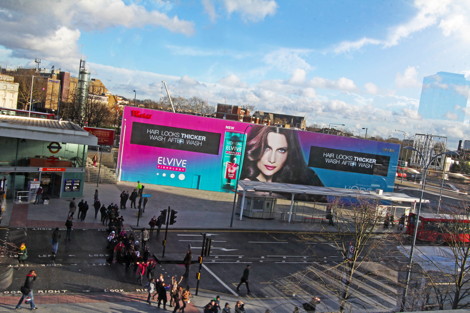 The campaign, which was bought by Kinetic and planned through Maxus, sees L'Oreal transform the leisure and retail destination into a premium canvas, featuring six different spaces including Ocean Outdoor's the Wall @ Westfield, the full motion Eat Street screen and four giant vinyl walls.
Supporting activity on Ocean's Digi-Bridge and slots on Westfield Point gives L'Oreal the chance to reach shoppers at every access point.
Elvive Fibrology is L'Oreal's biggest launch for 2014 and has already got all the papers talking. It is their first shampoo containing their innovative Filloxane molecule which penetrates the hair fibre and expands it from within to give long-lasting thickness. The chance to align the brand with London Fashion Week, all while generating high impact standout in one of the country's most important shopping destinations was a perfect fit for launch.
Neil Tookey, Activation Investment Director at Maxus said "The opportunity to dominate one of London's largest shopping malls across this key period of London Fashion week was a great way to showcase the launch of L'Oreal's Elvive Fibrology range. Working closely with Ocean and our creative team at McCann really shows how you can execute a short term deal into an impactful campaign."
Featuring the latest collections from more than 50 international designers and labels including Burberry, Mulberry, Tom Ford and Vivienne Westwood, London Fashion Week takes place from February 14 – 18 2014.