53 people joined us in Lost Wages for our day long Video Walls Unplugged event as part of DSE's education programme ahead of #dse2014 itself.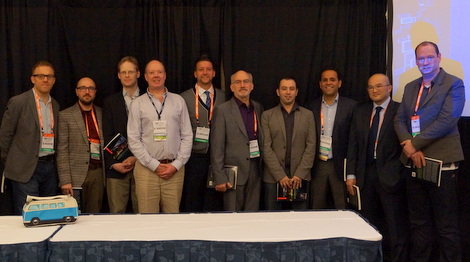 [1]
From left to right; Denys Lavigne (Arsenal Media), Brian Henry (Brian Henry Design), Andrew Neale (OpenSplash Association),  Adrian Cotterill (TLS MODERATOR, DailyDOOH Editor-in-Chief), Kirk Vanderleest (Flixio Studios), James Fine (Telecine Multimedia Inc.), Stephen Borg (AOpen), Andreas Soupliotis (Ayuda Media Systems), Ke-Quang Nguyen-Phuc  (Quividi), Alex Hughes (Amigo).
Attendees listened to 11 quick fire 30 minute presentations from The Content Dream Team (and one 20 minute video from Bob Rushby [2]) and walked away with a goodie bag and a few lucky winners had some fantastic prizes as well, courtesy of Matrox and Christie / Arsenal Media.
Next up in our Thought Leadership Summit series is 'Outdoor Unplugged [3]' which will take place in New York City, sometime during the latter part of October 2014.