After learning a little bit about the ABC/Branded Cities Digital Network in Times Square [1] a few weeks ago, we had the great opportunity to interview Steve Ellman, chairman & CEO of The Ellman Companies [2], Phoenix, owner of Branded Cities [3], and Gerald Griffin, senior vice-president, ABC Regional Sports and Entertainment Sales [4], at #dse2014 last week.
It turns out that ABC has been repping various Times Square digital signs since 1999, when Good Morning America was first put on the NASDAQ Times Square sign.
Since then it has added repping the Disney sign, the American Eagle sign, the Express, the Thompson Reuters sign, 1 Times Square, 7 Times Square and Branded Cities' newest sign at East 42nd.
It all involves an alliance between ABC, Branded Cities and Panasonic [6]. Branded Cities owns the real estate, Panasonic is the technical partner, and ABC handles sales, marketing, research, promotion and content. The network, as such, has been in operation since last May, and Ellman says that the aim is to build or add more screens, especially in the south end of the square (and he's open to buy others). The NASDAQ sign is being redone this year with Panasonic's newest technology and with a 10mm pitch. (None of the screens have sound.)
"Times Square is a $6.5 billion marketplace," says Griffin. "Our screens give 1.5 million impressions per day."
The network gained particular notice, not only by the millions passing through Times Square but also by the millions watching 'the ball come down' on TV with companies such as Nissan [7], Pepsi [8] and Heineken [9] taking possession of all the Branded Cities screens on New Year's Eve – and a similar big buy by advertisers during the Super Bowl week.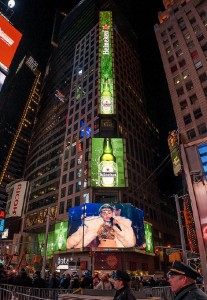 [10]Further, ABC also reps the screens in 6,500 CMT taxis [11] in New York, allowing advertisers to further dominate the market. These have full interaction and can be geotargeted. (The company has 14,000 taxis across the country.)
"Branded cities is now in 13 markets across the U.S., and we are in the business of building and buying more," says Ellman. "All our screens are full-motion digital and we ultimately believe that our industry will connect with consumers in the cities and create e-commerce." (Ellman also owns Clear Channel Canada [12].)
"As we continue to develop technically, we hope to have Fortune 500 companies test our screens with consumers. We're building the technology so that they can connect with cell phones. That's why we are not in the business of screens on highways. You cannot connect well with a screen as you drive by. The next generation is connectivity."
Ellman and Griffin are looking for the screens to create a data base, and Branded Cities has a patent pending (IP accepted) whereby a billboard can speak sound to a cell phone.
"You can build consumer patterns," says Griffin. "If someone downloads content on Bud, eg., then you can follow where they are, maybe a sports venue, and then to a restaurant."
The companies are part of the Times Square Advertising Coalition [13] that recently did a research study involving 2,000 people. It showed, among other details, that 56% of people in Times Square share their experiences in social media.
"We welcome technology providers to come and test on our real estate," says Ellman. "We see consumers being able to download music, movie trailers, and let companies speak directly to consumers."