Gail Chiasson, North American Editor
Germantown, Maryland-based Hughes Network Systems LLC announced #dse2014 that it has teamed with digital signage software provider Scala to offer retailers and quick-service restaurants turnkey multichannel retail signage and multiscreen digital menu board services.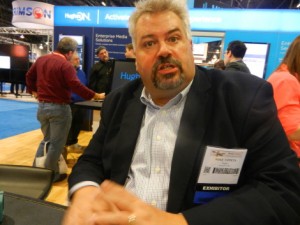 We talked to Mike Tippets, Hughes vice-president, about the company, which, he says, has been producing its own software solutions but now also partners with Scala and Cisco.
"We look at what and who meets the needs of the customer best," says Tippets.
"We used to do networking for distribution companies, but now we've been adding digital signage to the mix. We talk to retailers who generally know what they want, and then we can take care of everything for them, including getting past their difficulties of scaling to thousands of stores.
"The stores only have to take care of their content and scheduling. We also provide them with analytics. And we give them the hooks to plug into their inventory, the weather, whatever they want."
The new HughesON Digital Media Services allow retailers to quickly and easily enhance their stores by leveraging high-impact video and rich-media across all their locations.
In support of the new offerings, Hughes is now a Certified Scala Partner providing solutions on a global basis. Its new Retail Signage and Digital Menu Board Services combine Scala software with Hughes' video-enabled hardware platforms. The new services a part of a suite of HughesON Media Services which can be deployed with turnkey installation, hosting, field maintenance, content sourcing and financing.
"Today retailers know they must deliver a digitally enhanced customer experience to be competitive, whether to increase revenues or lower costs," said Tippets. "Unfortunately, many companies believe digital media solutions are too complex and expensive or that rich-media will bring their networks to their knees," said Tippets. "Our new solutions address these concerns head-on. With innovative hardware and software, combined with our unique service infrastructure, scale and financial strength, Hughes allows retailers to start small and scale up, eliminating upfront capital costs.
"We completely support social media, too," said Tippets, "and make sure that the home office of our clients can see what's said on social media."
Among Hughes clients are: Best Western, Cabela's, Rite-Aid, Cintas, and Lowe's
"We deal with large retailers," said Tippets. "Our key value is the ability got to hundreds of sites. I foresee our business growing well this year."
Tippets said that the company, which is publicly traded as part of Echostar (which bought Hughes two years ago) is 35 years old and has been in digital media since 1995.