Oregon-based Planar Systems Inc. had several new products to show us at #dse2014, but I think the thing that most entranced us was the company's online tools for use with its Mosaic and Clarity Matrix product lines.
Using these, any designer, integrator, engineer or anyone else can play with and plan their full digital signage, not only the design of the display, but the full placement with complete measurements of the setting right down to the wall colours behind.
Further, the digital signage designs, the room styling for it, even the engineering measurements, can be saved, printed, and revisited.
"This visualization on the web site allows people to play with the Mosiac and Clarity Matrix products, the specs, – they can even do the mechanicals," said Jennifer Davis, Planar vice-president marketing. "Once they decide on their preferred design, they can submit it to Planar for a quote."
Personally, I really liked the Planar Mosaic Architectural Video Wall which features three different LCD display tiles, including a truly square tile. Tiles can be mounted in any position relative to each other, or individually at almost any angle. Planar Mosaic is believed to be the only video wall system that allows you to integrate three different LCD tile sizes (all with energy-saving LED-backlight technology) and shapes.
"All our products on our LCD video walls are front serviceable, which is a great advantage," said Davis.
Planar also has added two new Simplicity Series digital signage displays: 46" and 55", now meaning that Planar offers customers a broad range of choices for deploying simple, sleek and affordable digital signage displays.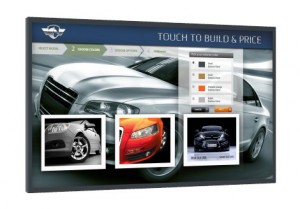 [2]But the thing that really was taking most attendees' attention at the Plana booth was its 84" 4K Planar UltraRes Touch with ERO featuring Corning Gorilla Glass [3].
By combining Planar's exclusive Extended Ruggedness and Optics (ERO) optical glass bonding technology with Gorilla Glass, the UltraRes Touch is durable and scratch resistant, making it ideal for digital signage and public venue applications. Planar UltraRes Touch now also supports up to 32 simultaneous touch points, offering the ultimate solution for multi-user applications, including collaboration walls and touch tables – it was shown as a touch table at #dse2014, Ed.
"We see it being used for retail stores, museums, hospitality and corporate lobbies," said Davis, who gave us a great tour of all Planar's offerings, even though the booth was crowded with visitors.
We noted in a press release that with Planar's ERO technology, Corning Gorilla Glass is optically bonded to the LCD cell using a proprietary process unique to Planar, providing exceptional durability and performance. The ERO process keeps out dust and moisture and improves image contrast by eliminating the air gap between the display and the glass. Gorilla Glass is more than four times stronger than tempered soda-lime glass, which enables a substantially-thinner design, and it better resists scratches that can cause the glass to break. Due to the Gorilla Glass' thinness, parallax and the resulting touch errors are reduced, weight is decreased, while touch sensitivity and display responsiveness are improved.