Gail Chiasson, North American Editor
The Charlotte Bobcats recently partnered with Charlotte-based 10 Foot Wave, provider of place-based digital solutions, to incorporate its FanConnect platform within Time Warner Cable Arena.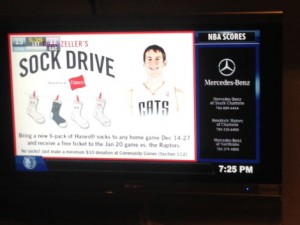 FanConnect, which is installed in more than 50 college venues, is making its professional sports debut with the Bobcats and Time Warner Cable Arena.
FanConnect combines sponsor messaging with live game content, real-time stats, out-of-town NBA scores and social media feeds that are all delivered in high-definition on the television screens found throughout Time Warner Cable Arena. The platform is customizable and allows the Bobcats flexibility in the type of sponsor inventory the team sells. FanConnect, which provides a new corporate partner revenue opportunity, is available in more than 250 televisions located on concourses, lobbies, suites and clubs throughout the arena.
"We are thrilled to partner with a Charlotte-based company in 10 Foot Wave to provide Bobcats fans an upgraded experience throughout the arena," says Fred Whitfield, Bobcats sports and entertainment president and COO. "The FanConnect platform allows our fans to get real-time stats, information and social media content throughout our arena. It also provides our corporate partners with another unique opportunity to get their targeted message in front of our fans, while providing our team with a new revenue stream."
Bobcats Sports & Entertainment owns the Charlotte Bobcats and operates Charlotte's Time Warner Cable Arena.
"We couldn't be more pleased with our partnership with the Bobcats and Time Warner Cable Arena as we expand our footprint from college football and basketball into the professional sports space," said Jeff Rayfield, CEO of 10 Foot Wave.
10 Foot Wave's FanConnect platform is currently installed at more 50 collegiate sports venues including some of the largest stadiums in all sports, including; Ohio Stadium (The Horseshoe), Michigan Stadium (The Big House), The Rose Bowl, Sanford Stadium, and Neyland Stadium 10 Foot Wave is also active the retail and automotive verticals.